Comparative Analysis of Monthly Reports on the Oil Market
1. International Policy and Market Context
COP 27 highlights methane reduction as a key focus
Methane Alert and Response System

On 11 November, the UN Environment Program's International Methane Emissions Observatory announced the Methane Alert and Response System (MARS), a public database of global methane leaks detected by space satellites. The program builds on the Global Methane Pledge signed by 119 countries to cut methane emissions by 30 percent this decade.

Strengthening US Methane Standards and Updating the US Methane Emissions Reduction Action Plan

The US will strengthen EPA standards and implement a Super Emitter Response Program that requires operators to respond to credible third-party reports of high-volume methane leaks. The US will also allocate $20 billion of new investments to tackle methane emissions and expand its 2021 Methane Rule to include smaller wells. Small wells are currently subject to an initial inspection but rarely checked again for leaks.

Joint Declaration from Energy Importers and Exporters on Reducing Greenhouse Gas Emissions from Fossil Fuels

The US, EU, Japan, Canada, Norway, Singapore, and the UK signed a joint declaration to build a coalition of major global fossil fuels importers and exporters to cut methane and carbon dioxide emissions along the fossil energy value chain with robust measurement, monitoring, reporting and verification initiatives.

China National Methane Reduction Plan

A new reduction plan by China to curb methane emissions will promote modern technologies and financing mechanisms to slash rising emissions of methane. The plan aims to lead to concrete measures to curb methane emissions from energy, agriculture, and waste.
Global carbon emissions set to hit record level
Carbon dioxide emissions from fossil fuels will rise 1 per cent to reach 36.6 Gt in 2022 – a record high according to the Global Carbon Project. The largest increases came from India and the US. China and the EU recorded a 1 percent drop in emissions drop due to China's zero-Covid policy and Europe's energy crisis.
Carbon Capture, Use and Storage gains in the Middle East and Europe
Saudi Arabia announced the establishment of one of the world's largest carbon capture and storage (CCUS) hubs in the city of Jubail storing up to 9 million tons of carbon dioxide a year by 2027, in addition to supportive carbon market measures and three new CCUS pilot projects in key sectors. This is part of a multitude of targets and projects on track in the Middle East involving renewables, nature based, and engineered solutions such as CCUS. On 27 October, the EU announced that it will table a "strategic vision" for CCUS technologies next year to help meet its climate goals.
US Strategic Petroleum Reserve at lowest levels since 1984
The United States Department of Energy has sold the last batch of crude oil from its Strategic Petroleum Reserve (SPR) as part of the 180-million-barrel release announced in March 2022. The SPR level is now down to 396.22 million barrels, the lowest since 1984. The US also intends to replenish the SPR when prices are at or below about $67-72 per barrel. The US government is encouraging companies to pass through lower energy costs to consumers as refining profits soar.
2. KEY POINTS
2.1 DEMAND
OPEC's demand growth estimate falls while IEA and EIA growth rises.
OPEC's year-on-year (y-o-y) forecast falls by 100 kb/d for a growth of 2.55 mb/d in 2022.
IEA's demand growth assessment for this year rises by 180 kb/d to 2.11 mb/d (y-o-y).
EIA's assessment rises by 140 kb/d for a growth of 2.26 mb/d this year. The IEA, OPEC, and EIA estimates for absolute world demand are now 99.78 mb/d, 99.57 mb/d, and 99.82 mb/d for 2022, respectively.
IEA non-OECD demand growth rises and is now close to OPEC and EIA estimates.
The IEA's assessment of y-o-y non-OECD demand growth rises by 200 kb/d to 0.82 mb/d, while OPEC's estimate falls by 20 kb/d to 1.27 mb/d. EIA non-OECD demand growth rises by 50 kb/d to 1.11 mb/d.
The IEA's estimate for OECD demand growth falls by 20 kb/d to 1.29 mb/d for 2022 while OPEC's projection falls by 70 kb/d for a growth of 1.28 mb/d. EIA demand growth rises by 80 kb/d for a growth of 1.15 mb/d.
The largest divergence in OECD and non-OECD demand growth estimates are between IEA and EIA at 0.14 mb/d and between IEA and OPEC at 0.45 mb/d, respectively.
2.2 SUPPLY
The IEA, OPEC, and the EIA non-OPEC supply growth estimates see closer alignment.
The IEA's November assessment for non-OPEC supply rises by 70 kb/d to reach a growth of 1.76 mb/d while OPEC's estimate falls by 30 kb/d for a growth of 1.90 mb/d. The EIA's assessment rises by 40 kb/d for an overall growth of 1.81 mb/d. In absolute values, the IEA, OPEC, and the EIA estimate non-OPEC supply at 65.55 mb/d, 65.58 mb/d, and 65.84 mb/d, respectively for 2022.
The IEA estimates OECD oil supply growth this year at 1.11 mb/d, OPEC pegs it at 1.20 mb/d, and EIA reports growth at 1.21 mb/d, an increase of 10 kb/d, decrease of 40 kb/d, and an increase of 20 kb/d, respectively. In absolute terms, the IEA, OPEC, and the EIA estimate OECD oil supply at 29.39 mb/d, 30.72 mb/d, and 32.33 mb/d, respectively for 2022. The largest divergence of OECD supply growth estimates is between EIA and IEA at 100 kb/d.
The IEA, OPEC, and EIA non-OECD supply growth forecasts move closer.
The IEA's assessment for non-OECD supply rises by 60 kb/d to a total growth of 0.42 mb/d in 2022.
OPEC's remains the same at 0.58 mb/d while the EIA revised its non-OECD growth forecast up by 20 kb/d to a growth of 0.60 mb/d.
In absolute values, the IEA, OPEC, and the EIA non-OECD supply estimates are 30.93 mb/d, 32.46 mb/d, and 33.51 mb/d, respectively for 2022 with the divergence in growth estimates between the IEA and EIA at 0.18 mb/d.
The IEA, EIA, and OPEC report a decline in OPEC output in October.
The IEA reported OPEC production declined by 30 kb/d in October to 29.80 mb/d.
OPEC also showed OPEC production fell month-on-month by 210 kb/d to 29.49 mb/d.
EIA assessed OPEC production at 29.35 mb/d, down 270 kb/d month-on-month.
2.3 STOCKS
The IEA, OPEC, and EIA continue to display strong alignment on stock figures which are below the five-year average and close to 60 days forward cover.
The IEA reports OECD stock levels at 2710 mb, which is close to OPEC's assessment of 2749 mb and EIA's assessment of 2752 mb. These are around 237 mb, 198 mb, and 183 mb below the five-year average, respectively.
According to the IEA, crude oil inventories built by 1.9 mb while product stocks drew by 8.2 mb. Other oils, including NGLs and feedstocks drew by 1.7 mb. According to OPEC, crude oil stocks built by 6.5 mb while products built by 6.8 mb.
The EIA estimates OECD inventories rose by 24 mb in September to 2752 mb – 183 mb below the five-year average.
The widest divergence in inventories is between the EIA and IEA at 42 mb. Total US crude inventories (excluding SPR) amount to about 441 mb, according to the EIA, which is 6 percent below the five-year average for this time of year.
2.4 SNAPSHOT (mb/d)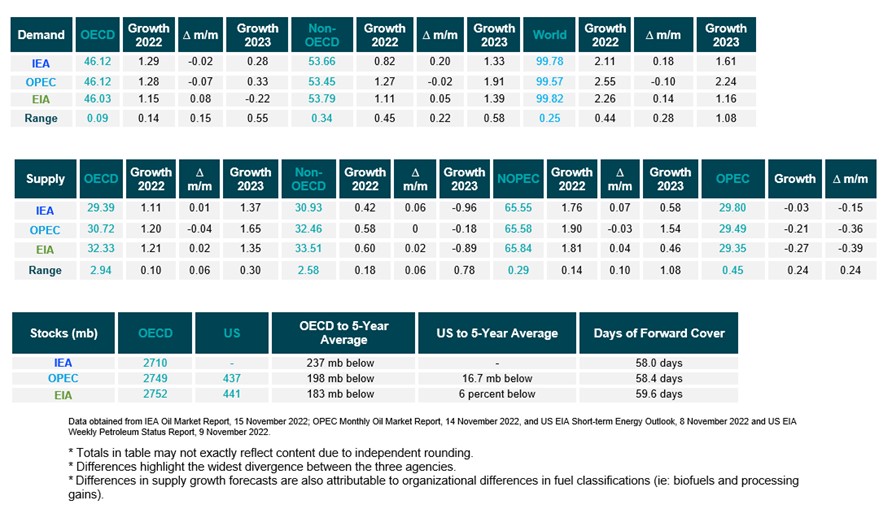 3. Global Analysis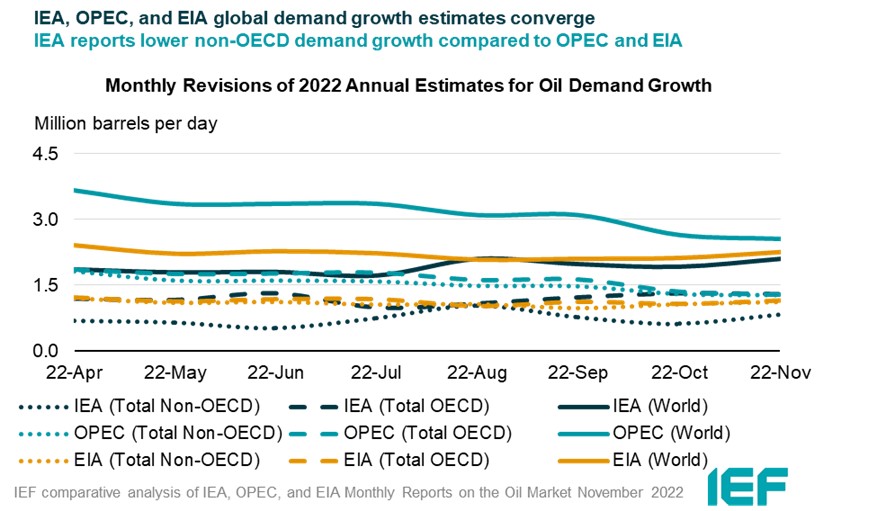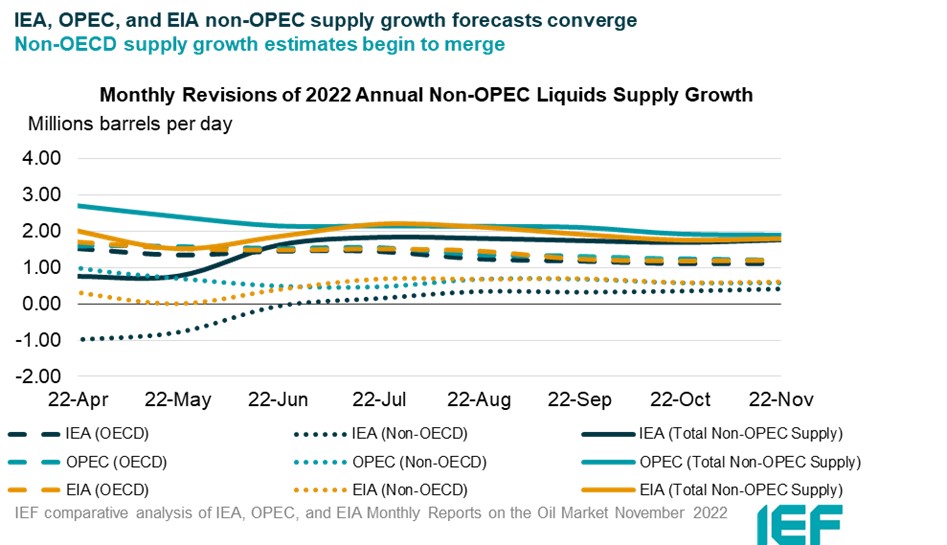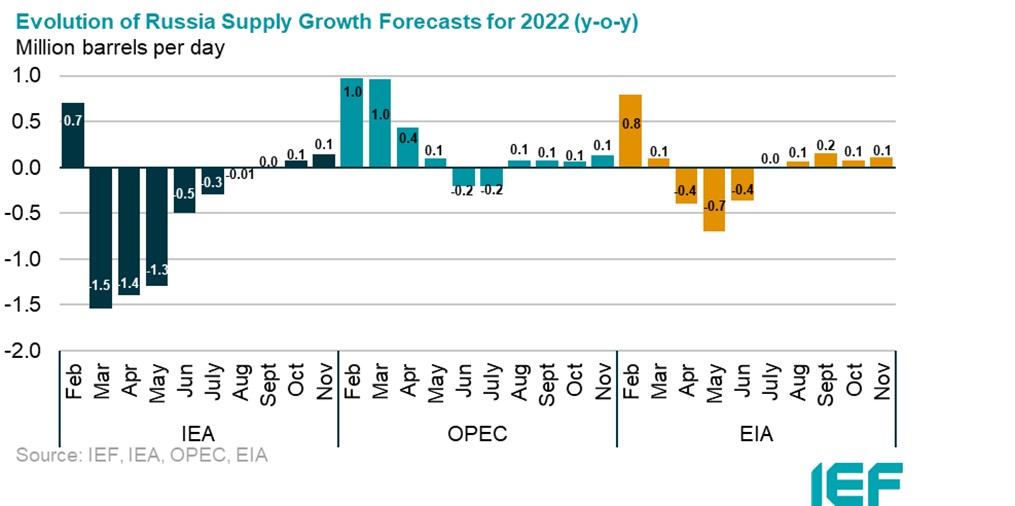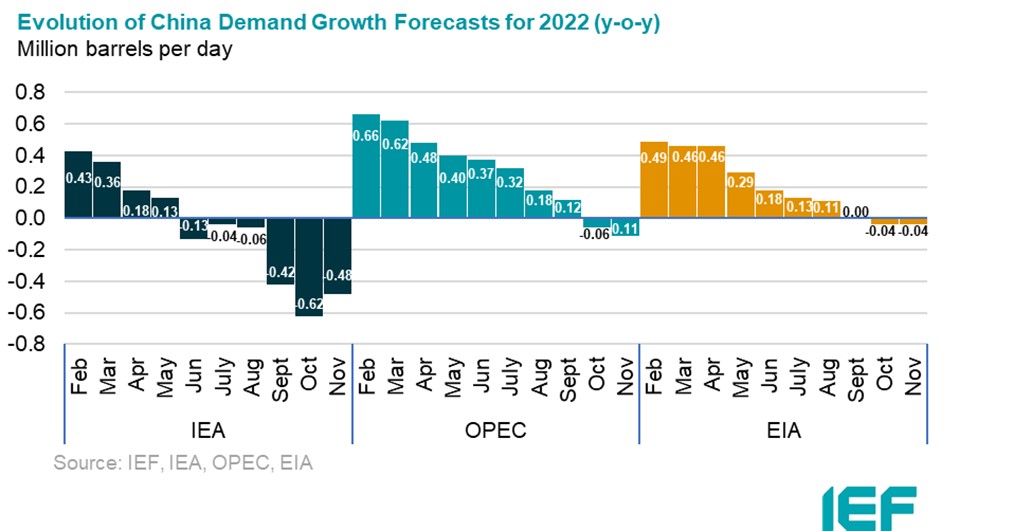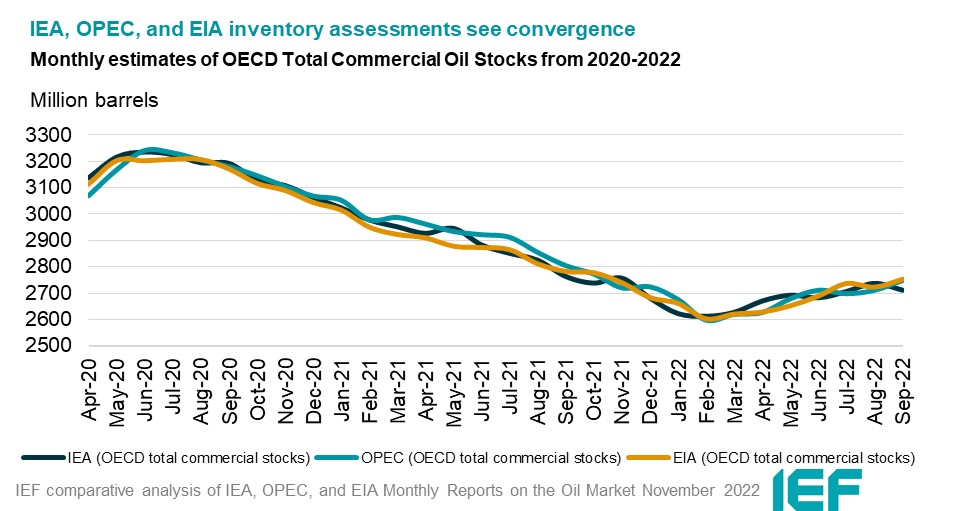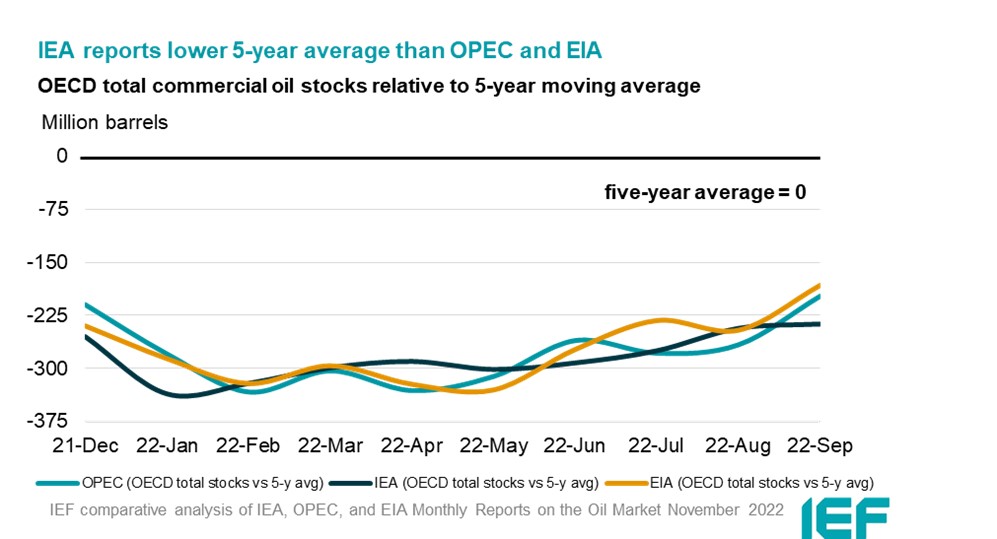 Explanatory Note
The IEF conducts a comprehensive comparative analysis of the short-, medium-, and long-term energy outlooks of the IEA, OPEC, and the EIA to inform the IEA-IEF-OPEC Symposium on Energy Outlooks that the IEF hosts in Riyadh as part of the trilateral work programme on a yearly basis.
To inform IEF stakeholders on how perspectives on the oil market of both organisations evolve over time regularly, this monthly summary provides:
An overview of key events and initiatives in the international policy and market context.
Key findings and a snapshot overview of data points gained from comparing basic historical data and short-term forecasts of the IEA Oil Market Report, the OPEC Monthly Oil Market Report, and the EIA Short-term Energy Outlook.
A comparative analysis of oil inventory data reported by the IEA, OPEC, and EIA, and secondary sources in collaboration with Kayrros (added in an updated report on the IEF website).
The International Energy Forum
The International Energy Forum is the leading global facilitator of dialogue between sovereign energy market participants. It incorporates members of International Energy Agency and the Organization of the Petroleum Exporting Countries, and also key players including China, India, Russia and South Africa. The forum's biennial ministerial meetings are the world's largest gathering of energy ministers, where discussions focus on global energy security and the transition towards a sustainable and inclusive energy future. The forum has a permanent secretariat of international staff based in the Diplomatic Quarter of Riyadh, Saudi Arabia. For more information visit www.ief.org.