Shaping a Living Roadmap for Energy Transition
A report by the
International Energy Forum

and S&P Global Commodity Insights
Introduction
Energy transitions have been ongoing since 1709: from wood and other biomass to coal to oil and to natural gas and now to renewables. But the current energy transition is different from all others for it faces a fundamental challenge – to reduce emissions while energy consumption continues to grow, and in as short a time as a quarter century. This imperative of reducing emissions has been translated into the "net-zero" emissions goals.
Yet developments over the last two years have demonstrated that the energy transition is more complicated than has previously been thought. While the transition proceeds, expectations of a linear global transition have been shaken as climate goals coexist with priorities around energy security, energy access, and affordability.
To date the net-zero narrative has been led by the Global North – mainly the industrialized nations of the OECD, with less contribution from the Global South, the developing nations. Over last year, the International Energy Forum along with S&P Global Commodity Insights as our chief knowledge partner has engaged with a wide spectrum of stakeholders around the world, in the Global South and the Global North, to engage with more diverse voices.
This report summarizes the findings from the dialogues. The dialogues expressed a view that expectations of a linear global transition of the energy system following a single net-zero path globally will be very difficult to achieve. Instead, a "multidimensional" approach is required that is inclusive of different situations in different parts of the world, reflecting varied starting points, diversity of policy approaches; and is equitable.
The report aims to bring attention to the issues to be addressed by policy makers, industry leaders, financial institutions, and the expert community and to present different ideas and approaches to enable progress. Its mission is not to offer recommendations or conclusions, but rather to contribute by capturing the wide spectrum of perspectives on the energy transition and what will be required to achieve it.
The COP 28 meeting at the end of 2023 will be of singular importance in addressing the questions that emerged in the GESI process and that are reflected in this report. We hope that this GESI report will contribute to the dialogue at COP 28 and to the endeavor of understanding and meeting the challenges of the energy transition and its durable implementation.
Joseph McMonigle
Secretary General
International Energy Forum
Overview of IEF GESI Program and Participants
Program
The IEF GESI Program was initiated with a series of regional leadership dialogues held in Cape Town, Bali, Riyadh, Washington DC, Panama City, and Davos between October 2022 and February 2023 . The objective of these regional leadership dialogues was to understand how key energy issues are seen from the perspectives of a diverse set of leaders and experts from government, industry, finance, academia and civil society. Choosing a location in Africa for the first dialogue ensured that diverse and inclusive perspectives were streamed into the program from the outset.
The seven leadership dialogues generated open, lively, and robust discussions on energy markets and the energy transition. The learnings in turn formed the inputs for four roundtables at the CERAWeek conference in Houston in March 2023. These four roundtables summarized the key ideas from the leadership dialogues, brought additional insights, and started the process to identify potential pathways and solutions to the opportunities and challenges of energy sustainability and the changing global dynamics of energy security.
The dialogues and roundtables were hosted by the IEF and moderated by energy experts from S&P Global, including Dr Daniel Yergin, S&P Vice Chairman, and Dr Atul Arya, Chief Energy Strategist, S&P Global Commodity Insights. The sessions were conducted under the Chatham House Rule.
Participants
350
Participants
11
Dialogues and Roundtables
7
Locations
The leadership dialogues and roundtables brought together a diverse cross-section of senior level stakeholders. These included participants from:
industry - power companies, renewable developers, oil and gas companies, mining companies, technology and manufacturing companies
financial institutions
governments
academia and research institutions
NGOs and think tanks
The GESI dialogues also represented regional diversity with participants from Africa, Asia-Pacific, Europe, Latin America, Middle East, and North America, representing both the Global North and Global South.
Key Charts
Figure 1 -

Global primary energy consumption by source (1800 - 2022)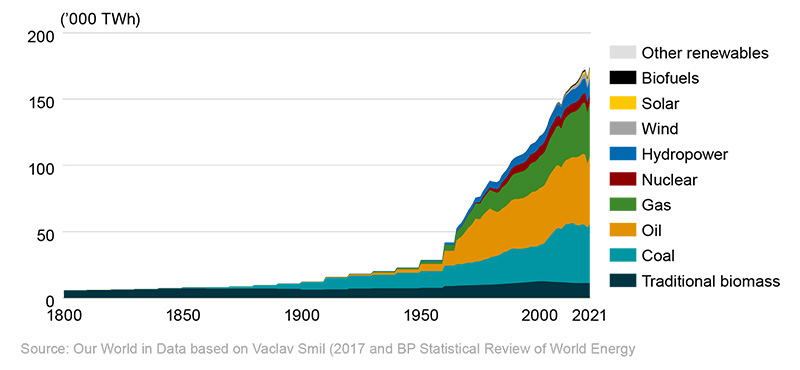 Figure 2 -

Natural Gas prices in Europe last 5 years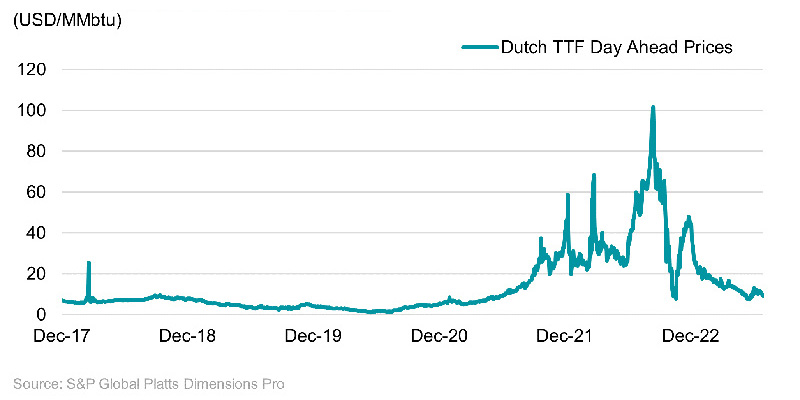 Figure 3 -

Cumulative CO2 emissions
Figure 4 -

Spending in renewable power and storage, by technology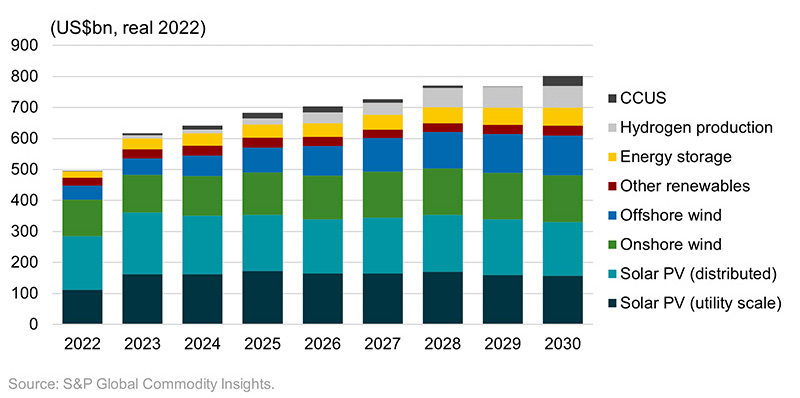 Figure 5 -

Global oil and gas upstream capex v average annual Brent crude price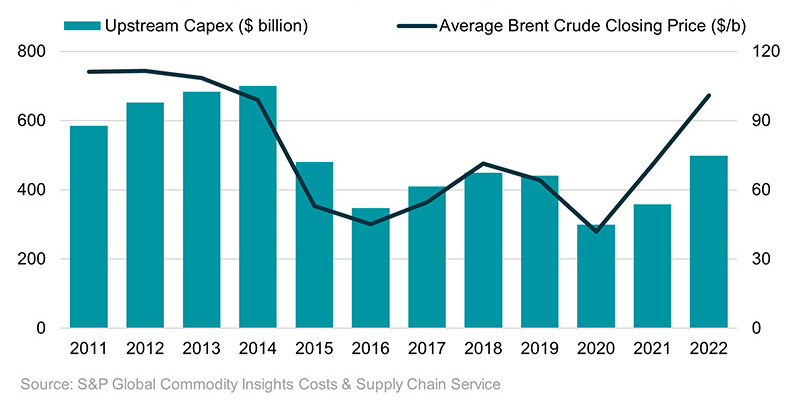 Figure 6 -

GlOCs: Aggregate organic low-carbon investment (Capex + R&D)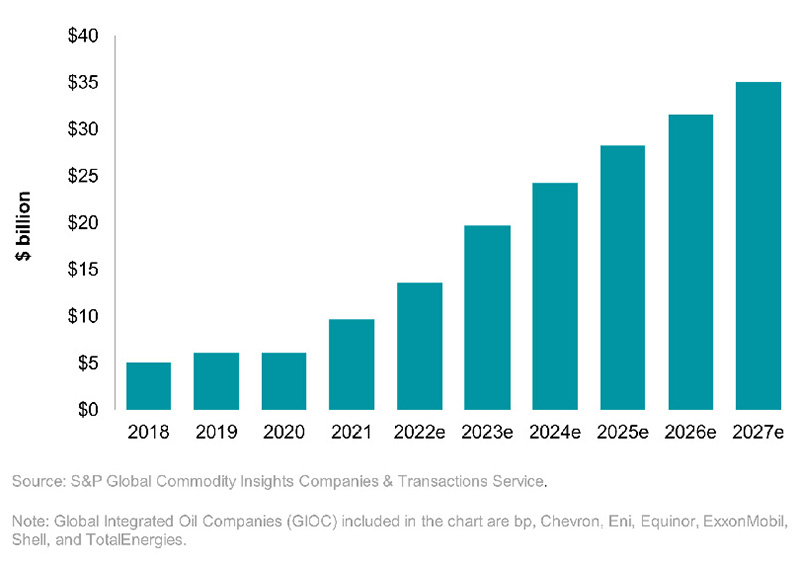 Figure 7 -

Timeline of net-zero pledges by market and share of global GHG emissions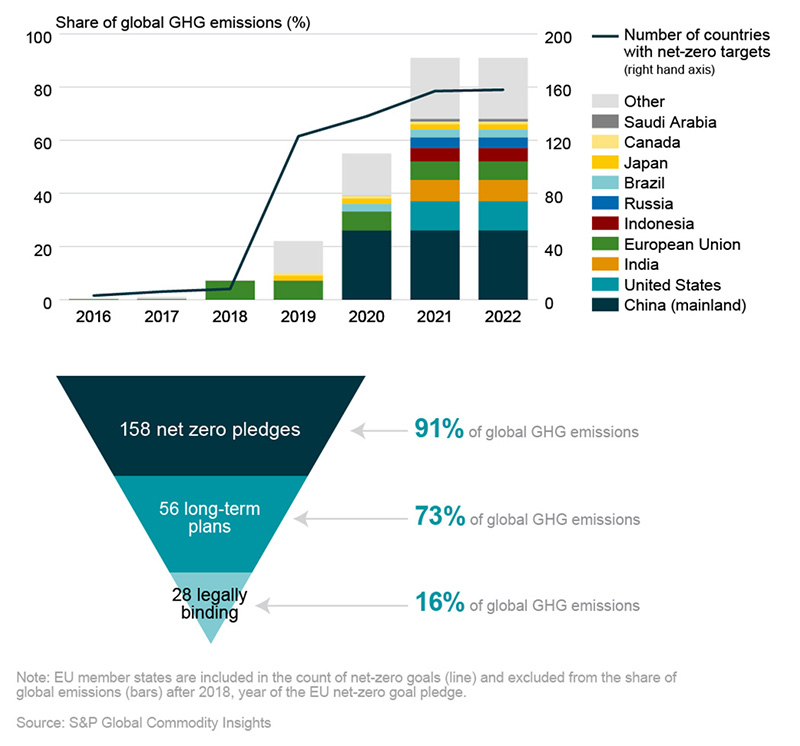 About the International Energy Forum
The International Energy Forum (IEF) is the world''s largest international organization of energy ministers from 72 countries and includes both producing and consuming nations. The IEF has a broad mandate to examine all energy issues including oil and gas, clean and renewable energy, sustainability, energy transitions and new technologies, data transparency, and energy access. Through the Forum and its associated events, officials, industry executives, and other experts engage in a dialogue of increasing importance to global energy security and sustainability.
About S&P Global Commodity Insights
S&P Global Commodity Insights is a division of S&P Global. For more than 100 years, S&P Global has been a trusted connector that brings together thought leaders, market participants, governments, and regulators to co-create solutions that lead to progress. Vital to navigating Energy Transition, S&P Global Commodity Insights coverage includes oil and gas, power, chemicals, metals, agriculture, and shipping.