Comparative Analysis of Monthly Reports on the Oil Market
1. International Policy and Market Context
G20 Energy-Climate Ministerial Meeting Adopts Joint Communique
The G20 Ministers of Energy and Climate met in Naples on 23 July 2021 and adopted – for the first time – a joint final communiqué, giving momentum to their core mission to preserve the global climate and ensure a clean and inclusive energy transition. Two actions remain open, namely setting a date to phase out unabated coal, stopping international financing of unabated coal, and phasing out inefficient fossil fuel subsidies. These will be the subject of further discussions at the G20 Rome Summit in October ahead of the United Nations Climate Change Conference (COP 26) in November.
The UN IPCC Publishes Latest Assessment Report on Climate Science
The United Nations' Intergovernmental Panel on Climate Change (IPCC) published the first part of its sixth assessment report (AR6) on 9 August. A key development since the last report (AR5) in 2013-14 is the strengthening of the links between human-caused warming and increasingly extreme weather. The report outlines global warming is expected to hit or exceed 1.5 degrees Celsius within the next two decades in almost all emission scenarios.
Drone Attack Raises Market Concerns
On 29 July, a petroleum products tanker managed by Israeli-owned Zodiac Maritime came under attack on Thursday off Oman's coast. Oil prices rose more than 1 percent on 5th August on due to increasing tensions, but gains were capped due to the increasing spread of the COVID-19 Delta variant along with new country restrictions that could slow global demand recovery.
19th OPEC and non-OPEC Meeting Agrees to Ease Production Adjustments
OPEC and non-OPEC countries agreed to ease production adjustments by adding 400 kb/d monthly starting August 2021 until the 5.8 mb/d production adjustment is entirely phased out. If the production additions go to schedule, full production will be restored by September 2022. The Declaration of Cooperation has officially been extended until December 2022. The 20th OPEC and non-OPEC Ministerial Meeting is scheduled for 1 September 2021.
2. Key Points
2.1 Demand
The IEA lowered its 2021 oil demand growth assessment slightly while EIA remains the same as last month. OPEC's demand growth estimate remains unchanged for the fifth month in a row.
The IEA decreased its assessment of year-on-year (y-o-y) demand growth by 50 kb/d to 5.34 mb/d. Demand is expected to see further growth of 3.16 mb/d in 2022, the IEA reports.
OPEC's y-o-y demand growth estimate remains the same as last month at 5.95 mb/d. OPEC forecasts demand growth at 3.28 mb/d in 2022.
EIA's assessment of this year's remains at 5.33 mb/d and will see a growth of 3.62 mb/d in 2022. The IEA, OPEC, and EIA estimates for absolute world demand are now 96.15 mb/d, 96.57 mb/d, and 97.63 mb/d for 2021, respectively.
The IEA and EIA converge on both OECD and non-OECD demand growth while OPEC reports higher non-OECD growth.
The IEA's assessment of y-o-y non-OECD demand growth rose by 170 kb/d to 2.94 mb/d, while the EIA reports a decrease of 30 kb/d for overall growth of 2.81 mb/d. OPEC's non-OECD demand growth estimate increases by 70 kb/d for a growth of 3.37 mb/d.
The IEA's estimate for OECD demand fell by 230 kb/d to 2.39 mb/d for 2021. EIA's assessment sees growth at 2.53 mb/d y-o-y, an increase of 40 kb/d. OPEC OECD demand growth falls by 70 kb/d for a growth of 2.58 mb/d.
OPEC and IEA assessments of OECD demand growth differ by 190 kb/d, while OPEC and EIA assessments of non-OECD demand growth differ by 560 kb/d.
2.2 Supply
Non-OPEC supply growth assessments by OPEC and EIA begin to converge while the IEA's estimate decreases.
The IEA's August assessment of non-OPEC supply fell by 50 kb/d for a total growth of 0.86 mb/d, while the EIA reports a higher overall supply growth of 1.11 mb/d y-o-y, up by 40 kb/d from last month's assessment. OPEC revised its non-OPEC supply growth estimate by 280 kb/d to 1.09 mb/d. Non-OPEC supply growth is expected to increase into 2022 with the IEA reporting growth at 2.88 mb/d, OPEC at 2.94 mb/d, and EIA at 3.04 mb/d. In absolute values, the IEA, OPEC, and EIA estimate non-OPEC supply at 63.87 mb/d, 64.00 mb/d, and 64.57 mb/d, respectively for 2021.
The IEA estimates OECD oil supply growth this year at 0.17 mb/d while OPEC pegs it at 0.49 mb/d, a decrease of 160 kb/d and an increase of 80 kb/d, respectively. The EIA also raised its estimate by 60 kb/d for a growth of 0.44 mb/d. In absolute terms, the IEA, OPEC, and EIA estimate OECD oil supply at 28.10 mb/d, 29.61 mb/d, and 31.16 mb/d, respectively for 2021. The greatest divergence on OECD supply growth is between OPEC and IEA at 320 kb/d.
The EIA reports higher non-OECD supply growth than the IEA and OPEC.
The IEA's non-OECD supply growth assessment is revised up by 120 kb/d to 0.32 mb/d. OPEC's forecast reports a growth of 0.47 mb/d for 2021, which is also revised up by 200 kb/d from last month. The EIA is substantially more optimistic for non-OECD supply growth, forecasting a rise of 0.67 mb/d, a figure that was revised down by 20 kb/d from last month. OPEC reports higher growth in 2022 at 1.60 mb/d while the EIA and IEA forecast growth at 1.49 mb/d and 1.22 mb/d, respectively.
In absolute values, the IEA, OPEC, and EIA non-OECD supply estimates are 30.70 mb/d, 32.11 mb/d, and 33.41 mb/d, respectively for 2021. Divergence on total non-OECD supply growth is widest between the IEA and EIA, differing by 350 kb/d.
The IEA, OPEC, and EIA revise OPEC production estimates upwards for July.
The IEA revised its OPEC production estimate upward by 720 kb/d month-on-month (m-o-m) in July to reach total production of 26.68 mb/d. OPEC's assessment of its own production in July was revised upwards by 640 kb/d to 26.66 mb/d. The EIA also increased its assessment by 670 kb/d for total OPEC crude production of 26.71 mb/d in July.
2.3 Stocks
The IEA, OPEC, and EIA continue to display strong alignment on stock figures which are now below the five-year average but still higher than 60 days forward cover.
The IEA reports OECD stock levels at 2882 mb, which is close to OPEC's assessment of 2922 mb and EIA's assessment of 2873 mb which is 131.2 mb, 90.4 mb, and 128 mb below the five-year average, respectively.
According to the IEA, crude oil inventories drew by 34.3 mb while product stocks drew by 18.3 mb. Other oils, including NGLs and feedstocks built by 2.3 mb. According to OPEC, crude oil stocks drew by 38.3 mb while products built by 15.3 mb.
EIA estimates OECD inventories dropped by 5 mb in June to 2873 mb – 128 mb below the five-year average.
The widest divergence in inventories is between OPEC and the EIA which stands at 49 mb. Total US crude inventories (excluding SPR) amount to about 439 mb according to the EIA which are 6 percent below the five-year average for this time of year. OPEC reports US commercial crude oil stocks at about 439 mb and around 30 mb below the five-year average.
2.4 Snapshot (mb/d)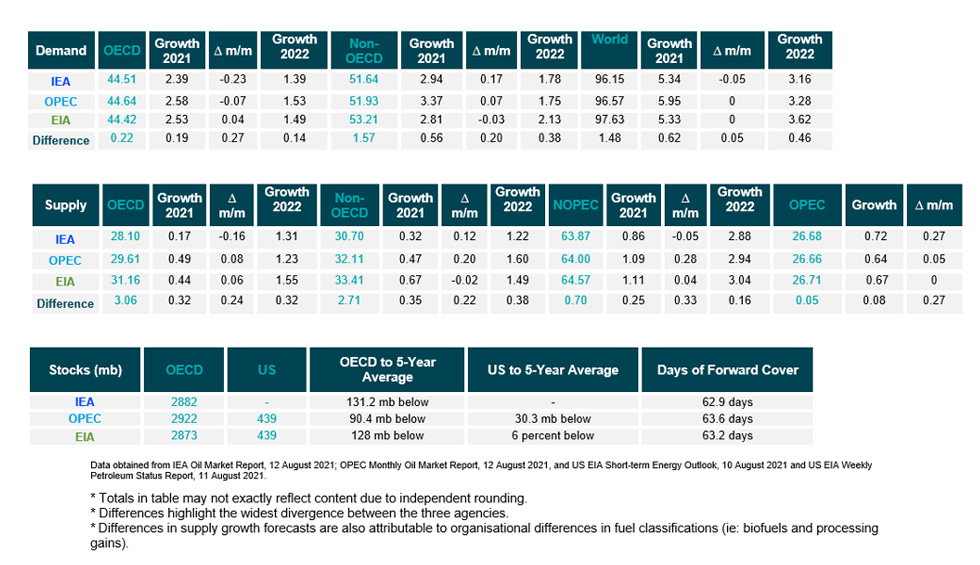 3. Global Analysis
3.1 Demand Data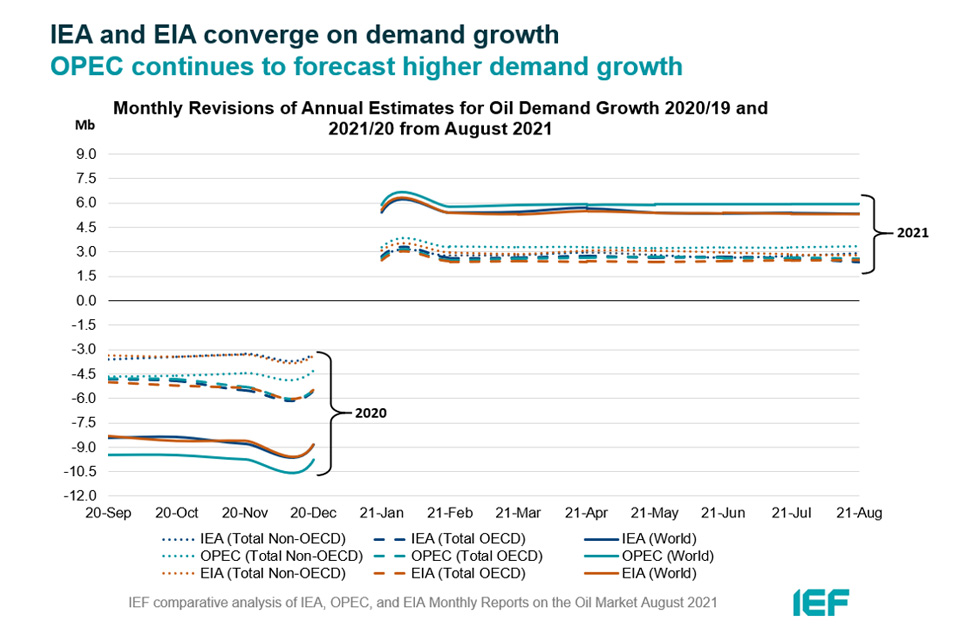 3.2 Supply Data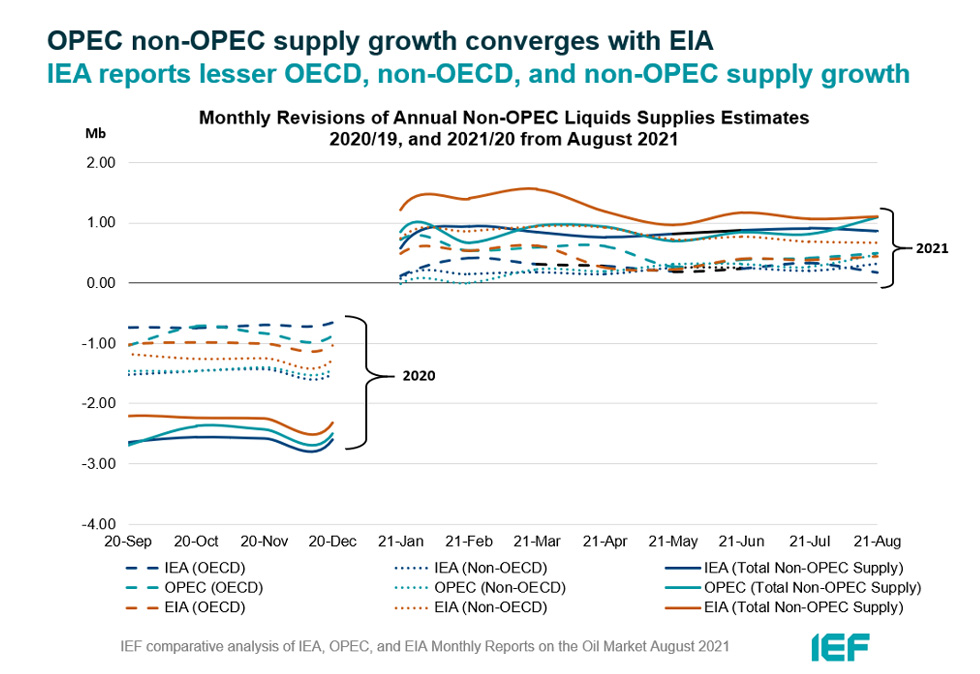 3.3 Stock Data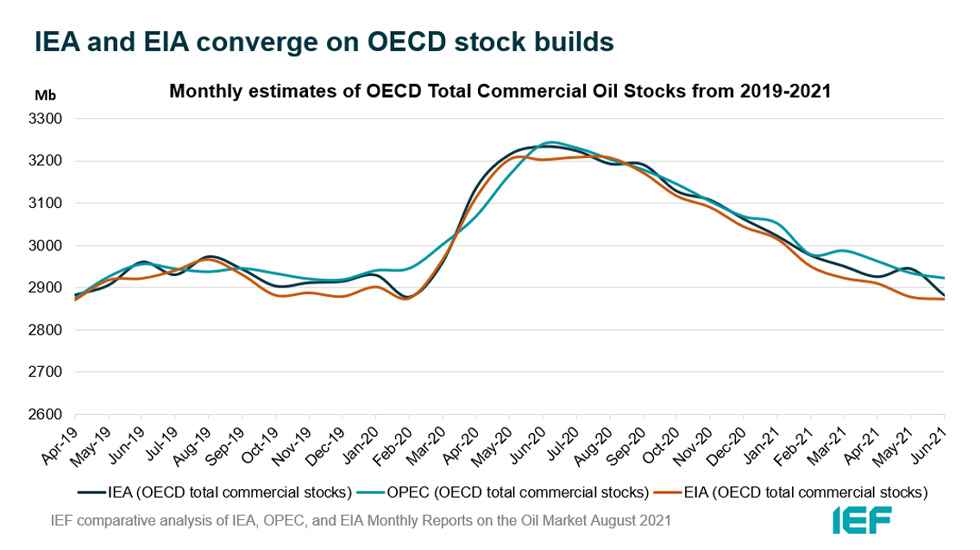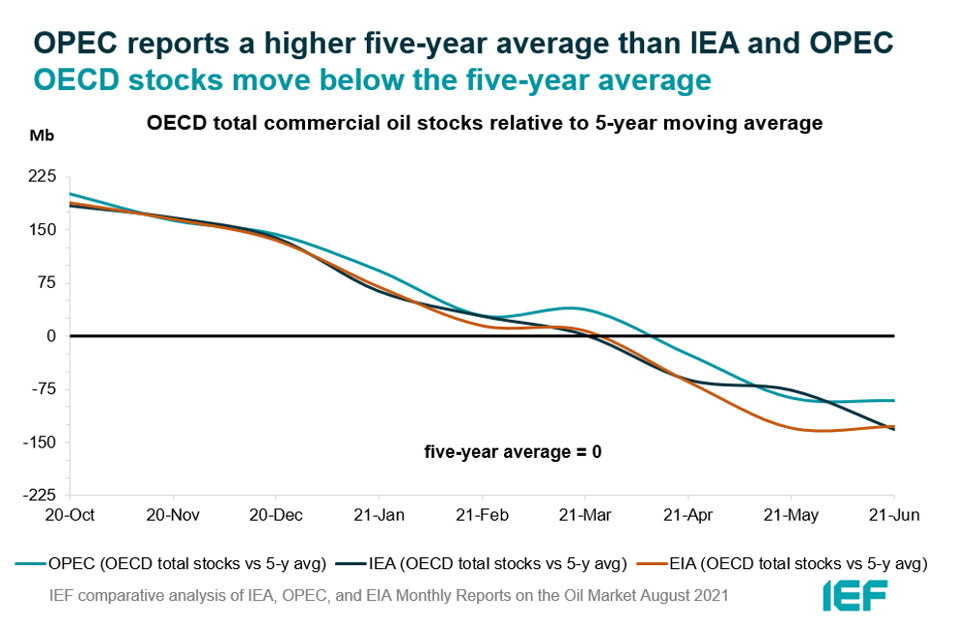 IEF-Kayrros Stock Analysis: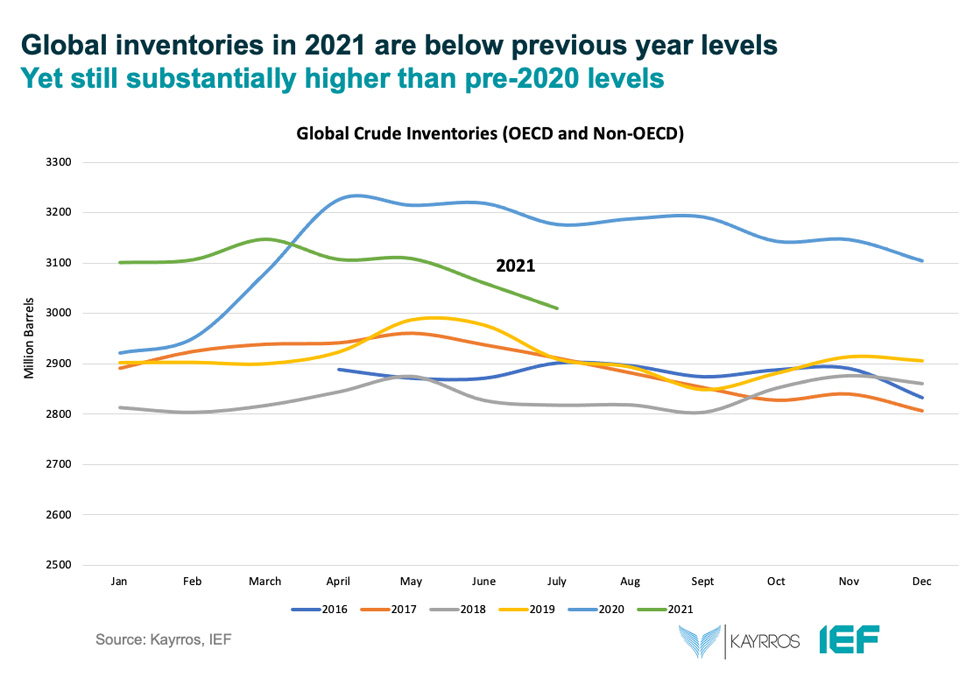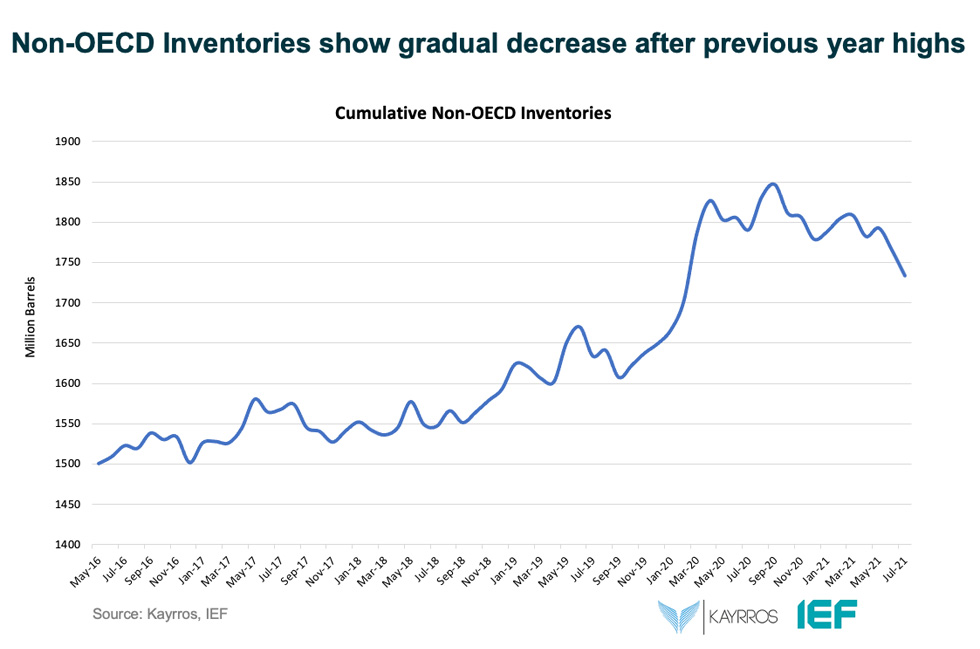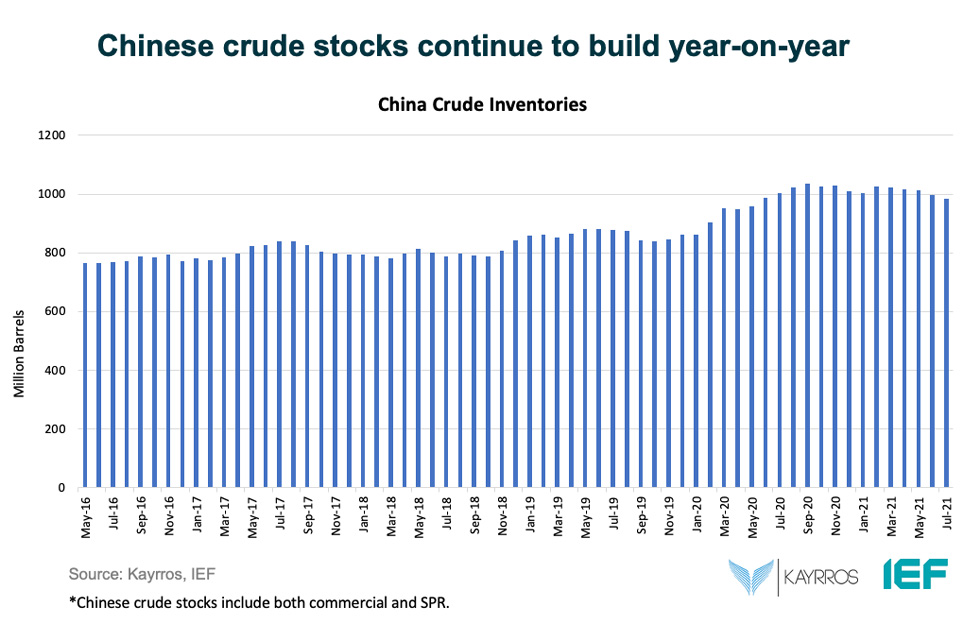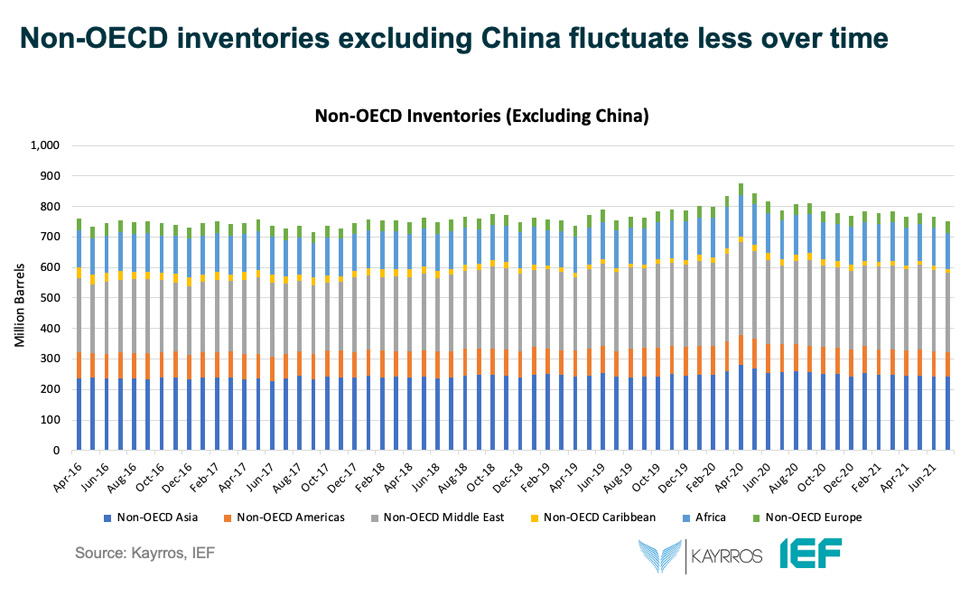 JODI Data: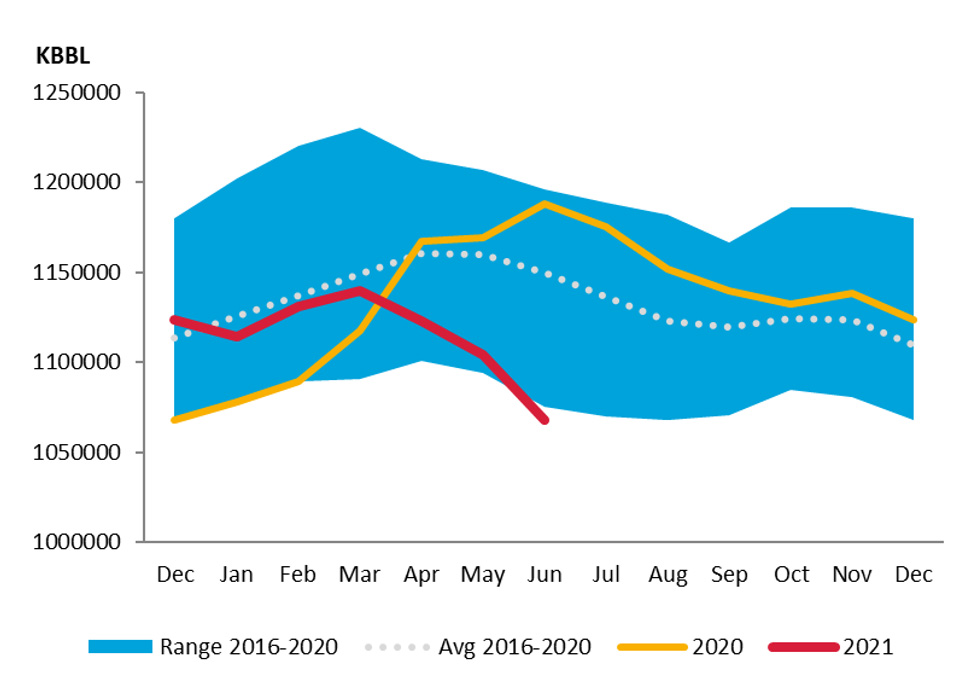 US crude oil closing stock levels in May fell m-o-m by 19.82 mb to 1103.34 mb.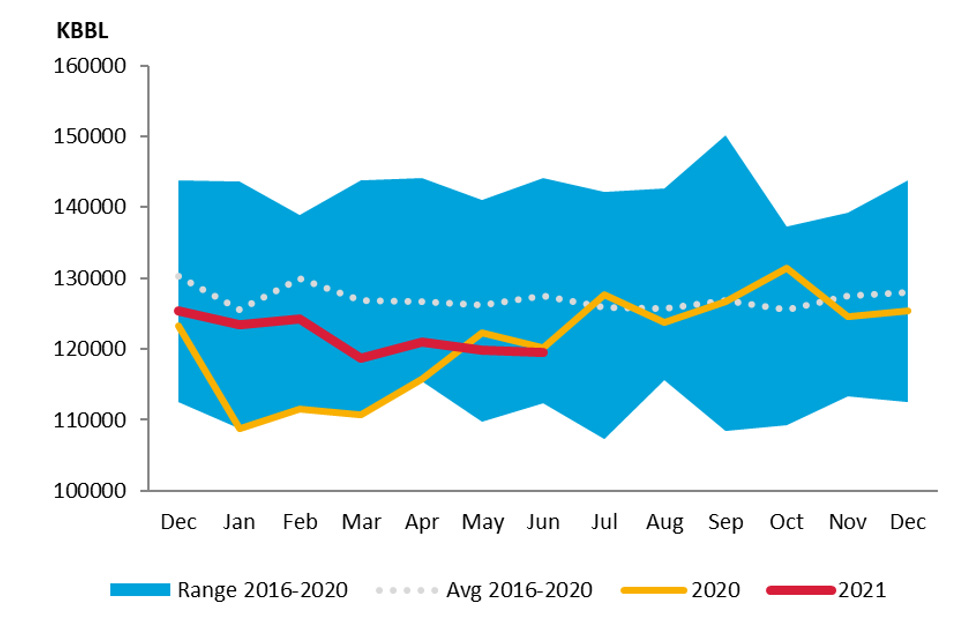 Korean crude oil closing stock levels in May fell m-o-m by 1.11 mb to 119.84 mb.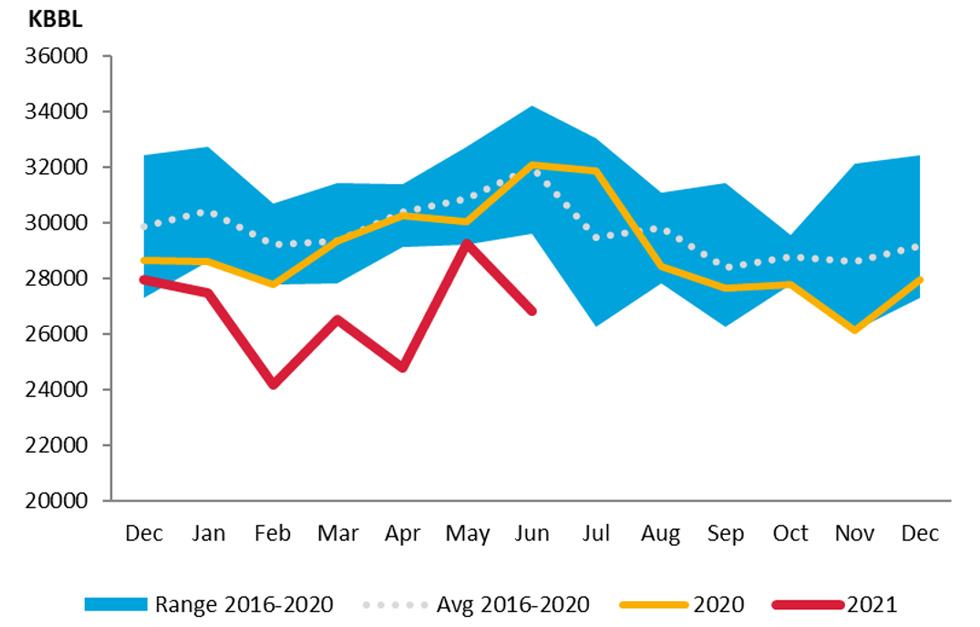 UK crude oil closing stock levels in May fell m-o-m by 2.89 mb to 23.33 mb.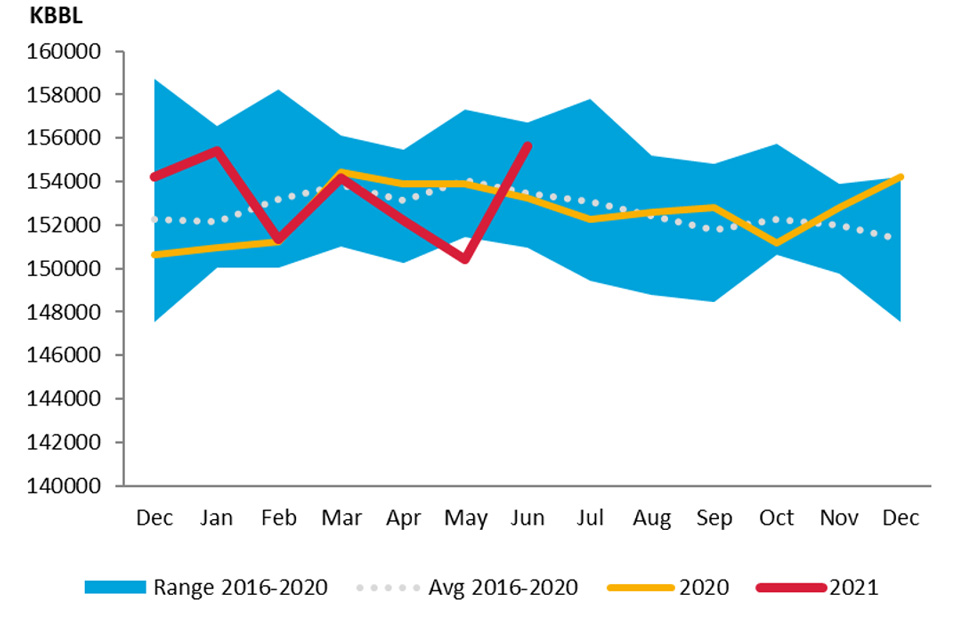 While its April figures were significantly revised downward, German crude oil closing stock levels in May rose m-o-m by 1.67 mb to 153.89 mb.
Explanatory Note
The IEF conducts a comprehensive comparative analysis of the short-, medium-, and long-term energy outlooks of the IEA OPEC, and the EIA to inform the IEA-IEF-OPEC Symposium on Energy Outlooks that the IEF hosts in Riyadh as part of the trilateral work programme on a yearly basis.
To inform IEF stakeholders on how perspectives on the oil market of both organisations evolve over time regularly, this monthly summary provides:
An overview of key events and initiatives in the international policy and market context.
Key findings and a snapshot overview of data points gained from comparing basic historical data and short-term forecasts of the IEA Oil Market Report, the OPEC Monthly Oil Market Report, and the EIA Short-term Energy Outlook.
A comparative analysis of oil inventory data reported by the IEA, OPEC, and EIA, and secondary sources in collaboration with Kayrros (added in an updated report on the IEF website).
The International Energy Forum
The International Energy Forum is the leading global facilitator of dialogue between sovereign energy market participants. It incorporates members of International Energy Agency and the Organization of the Petroleum Exporting Countries, and also key players including China, India, Russia and South Africa. The forum's biennial ministerial meetings are the world's largest gathering of energy ministers, where discussions focus on global energy security and the transition towards a sustainable and inclusive energy future. The forum has a permanent secretariat of international staff based in the Diplomatic Quarter of Riyadh, Saudi Arabia. For more information visit www.ief.org.