Comparative Analysis of Monthly Reports on the Oil Market
1. International Policy and Market Context
Record-high inflation and a sharp rise in geopolitical risk cause uncertainty
Consumer prices increased in May as gasoline prices hit record highs and the cost of food soared in major consuming markets, leading to the largest annual increase of inflation in nearly 40 years and calls for monetary tightening. Oil prices remain well above the $110 mark due to robust energy demand outside of China and as sanctions impact Russian production.
OPEC and non-OPEC countries accelerate production increases
On 2 June, OPEC and non-OPEC countries agreed to advance the planned production adjustment for September and "redistribute equally" the 432 kb/d output increases for July and August. Therefore, July production will be adjusted upward by 648 kb/d. The OPEC+ production plan for August will be announced at its next ministerial meeting, which is to convene on 30 June.
EU Parliament votes down carbon market reform
On 8 June, the European Parliament rejected a proposal to upgrade the EU carbon market. The proposal sought to reform the EU Emissions Trading Scheme (ETS), by expanding it to include carbon from transport and construction. Lawmakers also postponed voting on related proposals to introduce a carbon border adjustment mechanism and a climate fund protecting the most vulnerable. The three legislative proposals are part of the European Commission's "Fit For 55" package to reduce the EU's carbon emissions by at least 55 percent by 2030.
Gazprom reduces gas flows to the EU
On 14 July, Gazprom stated that it that it will limit natural gas supply via the Nord Stream pipeline to Germany by 40 percent compared to planned flows because of a delay in equipment repairs, sending European gas prices surging by 13 percent. This is in addition to supply cuts to Poland and Bulgaria in late April and Finland in late May after their refusal to pay in Russian Roubles. Most recently, the Russian gas company halted supplies to the Netherlands and Denmark on 31 May and 1 June, respectively.
US Strategic Petroleum Reserve posts record draw
While US commercial crude inventories rose in early June, SPR crude stocks fell by a record amount as refiners continue to ramp up production to pre-pandemic levels, according to the EIA. SPR crude stocks fell by a record 7.3 mb to 519.3 mb, the lowest level since March 1987.
2. KEY POINTS
2.1 DEMAND
The IEA expects lower demand growth than OPEC and the EIA in 2022.
IEA's demand growth assessment for this year rises by 10 kb/d to 1.81 mb/d year-on-year (y-o-y). Growth will accelerate to 2.17 mb/d in 2023 with China driving most of the gains.
OPEC's y-o-y forecast remains the same at 3.36 mb/d.
EIA's assessment falls by 60 kb/d for a growth of 2.28 mb/d this year. The IEA, OPEC, and EIA estimates for absolute world demand are now 99.42 mb/d, 100.29 mb/d, and 99.63 mb/d for 2022, respectively.
The IEA, OPEC, and the EIA differ on non-OECD demand growth in 2022.
The IEA's assessment of y-o-y non-OECD demand growth falls by 130 kb/d to 0.51 mb/d, while OPEC's estimate remains the same at 1.60 mb/d. EIA non-OECD demand growth rises by 20 kb/d to 1.11 mb/d.
The IEA's estimate for OECD demand growth rises by 150 kb/d to 1.31 mb/d for 2022 while OPEC's projection rises by 10 kb/d for a growth of 1.77 mb/d. EIA revises OECD demand growth up by 50 kb/d to 1.18 mb/d this year.
The largest divergence in OECD and non-OECD demand growth estimates is between OPEC and EIA differing by 590 kb/d and between IEA and OPEC at 1.09 mb/d, respectively.
2.2 SUPPLY
The IEA, OPEC, and the EIA report similar growth in non-OPEC supply.
The IEA's June assessment for non-OPEC supply rises by 850 kb/d to reach a growth of 1.62 mb/d while OPEC's estimate falls by 250 kb/d for a growth of 2.15 mb/d. The EIA's assessment rises by 340 kb/d for an overall growth of 1.87 mb/d. In absolute values, the IEA, OPEC, and the EIA estimate non-OPEC supply at 65.32 mb/d, 65.74 mb/d, and 65.78 mb/d, respectively for 2022.
The IEA estimates OECD oil supply growth this year at 1.45 mb/d, OPEC pegs it at 1.54 mb/d, and EIA reports growth at 1.49 mb/d, an increase of 110 kb/d and decreases of 50 kb/d, and 40 kb/d, respectively. In absolute terms, the IEA, OPEC, and the EIA estimate OECD oil supply at 29.64 mb/d, 30.99 mb/d, and 32.51 mb/d, respectively for 2022. The largest divergence of OECD supply growth estimates is between the IEA and OPEC differing by 90 kb/d.
The IEA forecasts a decline while both the EIA and OPEC forecast substantial growth for non-OECD supply in 2022.
The IEA's assessment for non-OECD supply rises by 720 kb/d for a total decline of 0.05 mb/d compared to last month's assessment of a 0.77 mb/d decline.
OPEC revised down its forecast by 210 kb/d for a growth of 490 kb/d while EIA revised upwards by 390 kb/d for a growth of 390 kb/d.
In absolute values, the IEA, OPEC, and the EIA non-OECD supply estimates are 30.45 mb/d, 32.36 mb/d, and 33.28 mb/d, respectively for 2022 with the largest divergence in growth estimates between the IEA and OPEC at 0.54 mb/d.
The IEA, EIA, and OPEC revise OPEC production estimates downward.
The IEA decreased its OPEC production estimate for May downward by 210 kb/d month-on-month (m-o-m) to reach total production of 28.52 mb/d. OPEC also revised its assessment of OPEC production downward by 180 kb/d to 28.51 mb/d. The EIA revised its assessment downward by 300 kb/d with total OPEC crude production reaching 28.59 mb/d.
2.3 STOCKS
The IEA, OPEC, and EIA continue to display strong alignment on stock figures which are below the five-year average and now below 60 days forward cover.
The IEA reports OECD stock levels at 2669 mb, which is close to OPEC's assessment of 2628 mb and EIA's assessment of 2627 mb. These are around 290 mb, 332 mb, and 322 mb below the five-year average, respectively.
According to the IEA, crude oil inventories built by 17.4 mb while product stocks built by 21.8 mb. Other oils, including NGLs and feedstocks built by 3.3 mb. According to OPEC, crude oil stocks built by 9.3 mb while products drew by 7.5 mb.
The EIA estimates OECD inventories rose by 11 mb in April to 2627 mb – 322 mb below the five-year average.
The widest divergence in inventories is between the IEA and EIA at 42 mb. Total US crude inventories (excluding SPR) amount to about 417 mb, according to the EIA, which is 15 percent below the five-year average for this time of year.
2.4 Snapshot (mb/d)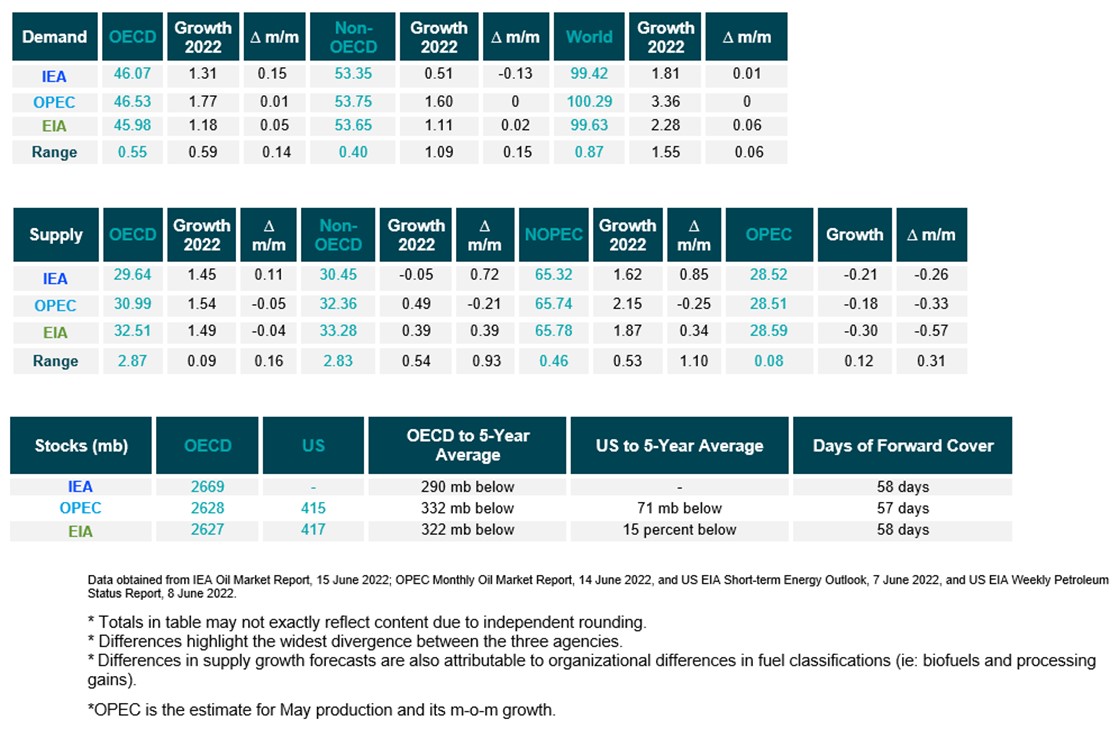 3. Global Analysis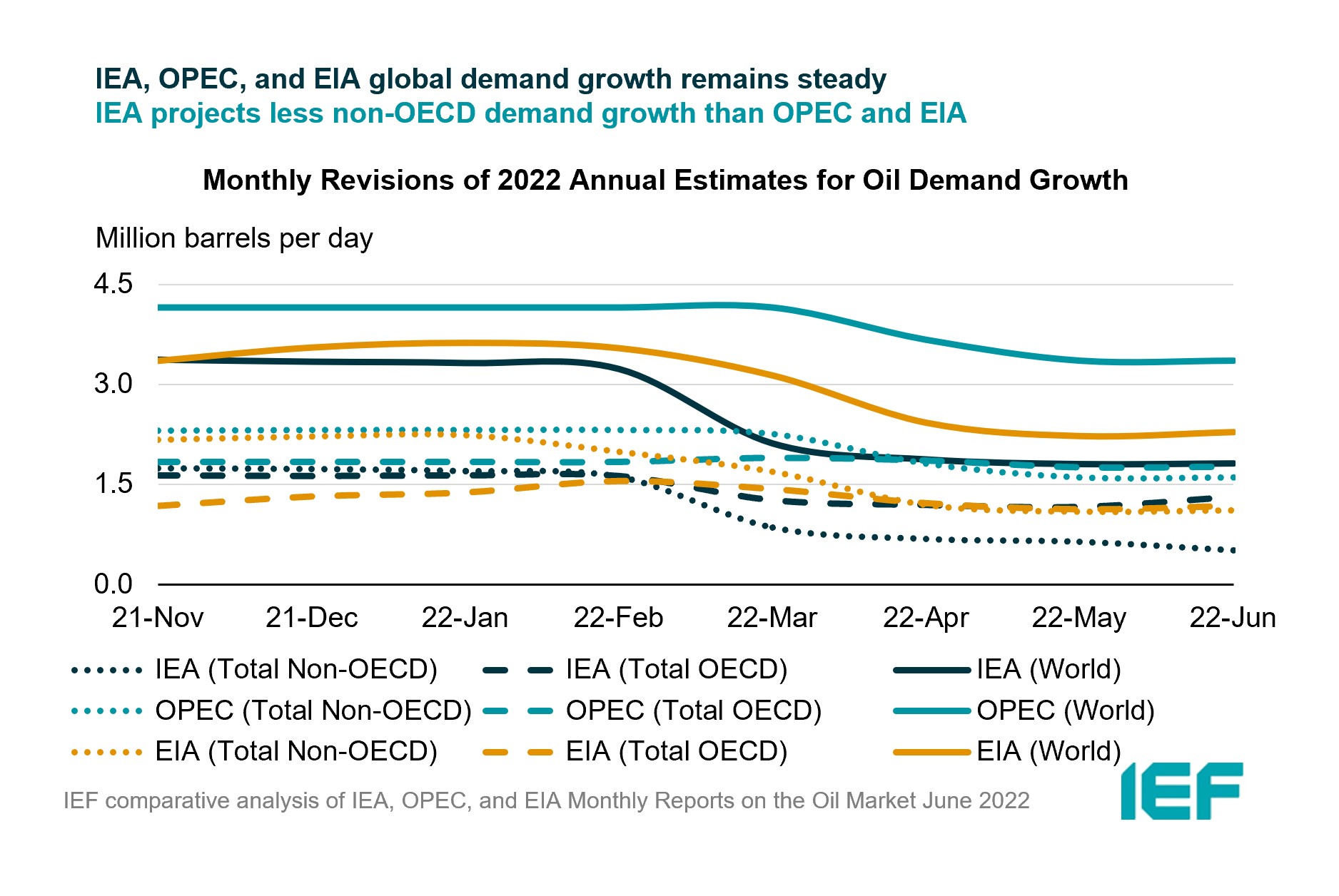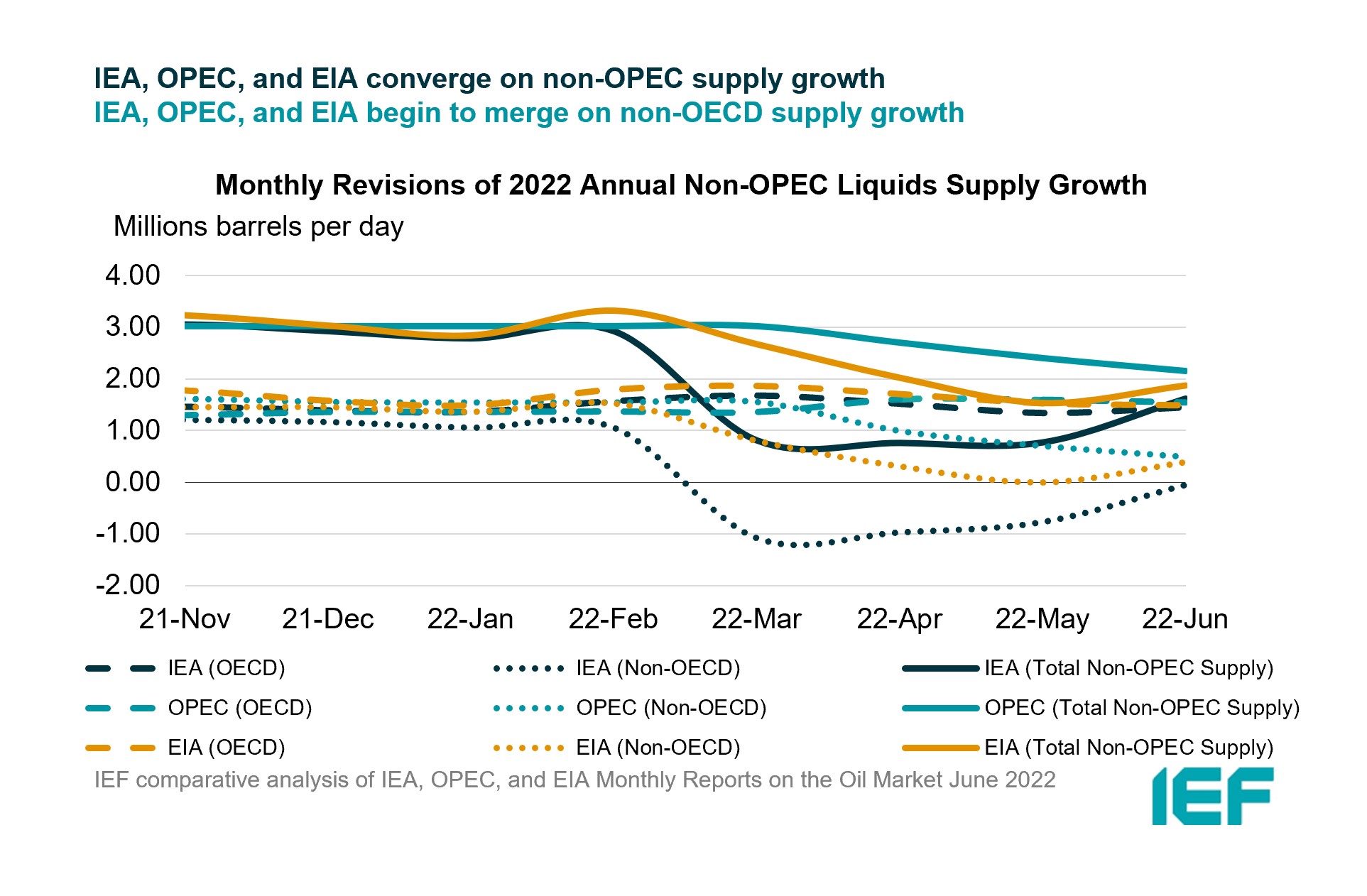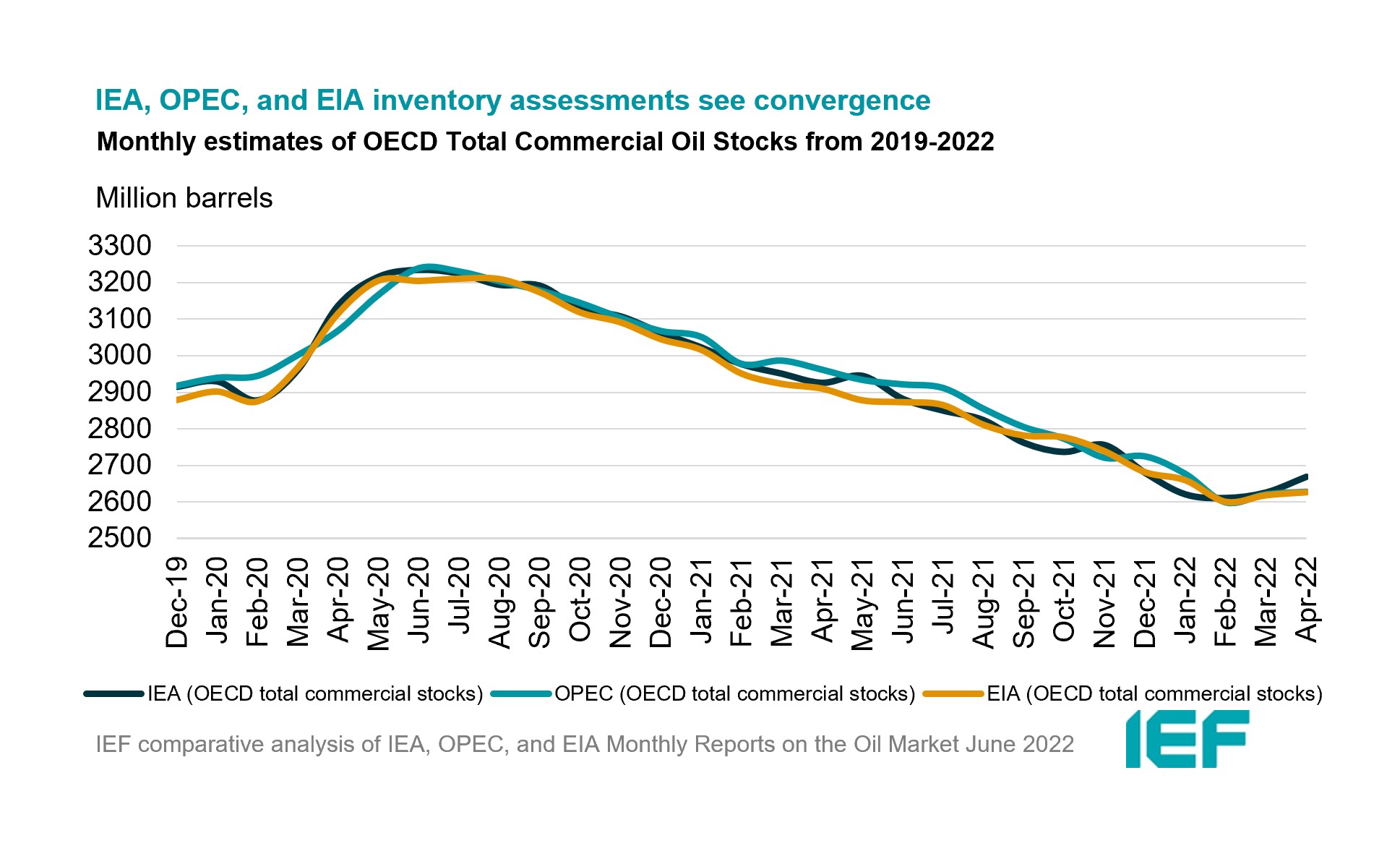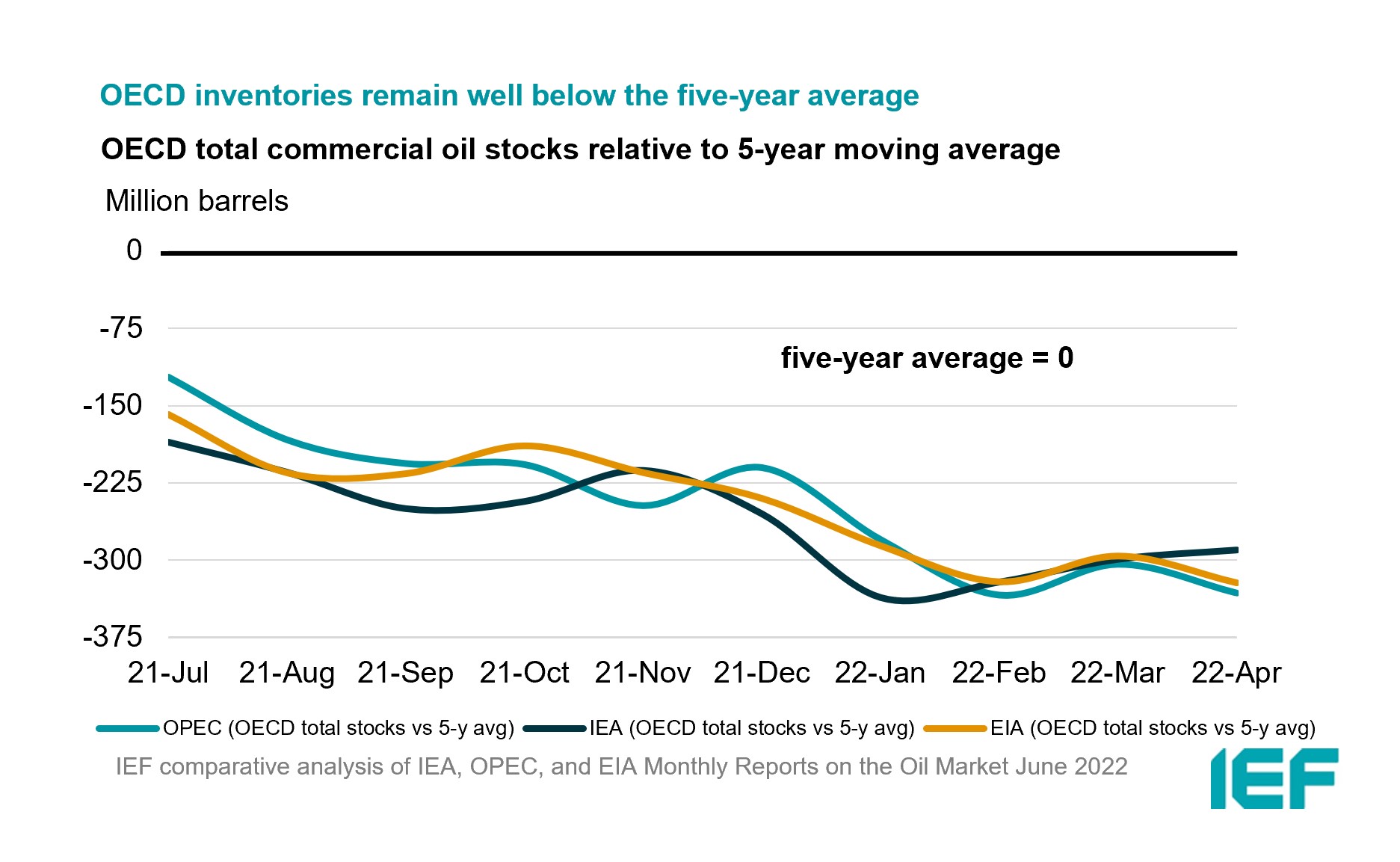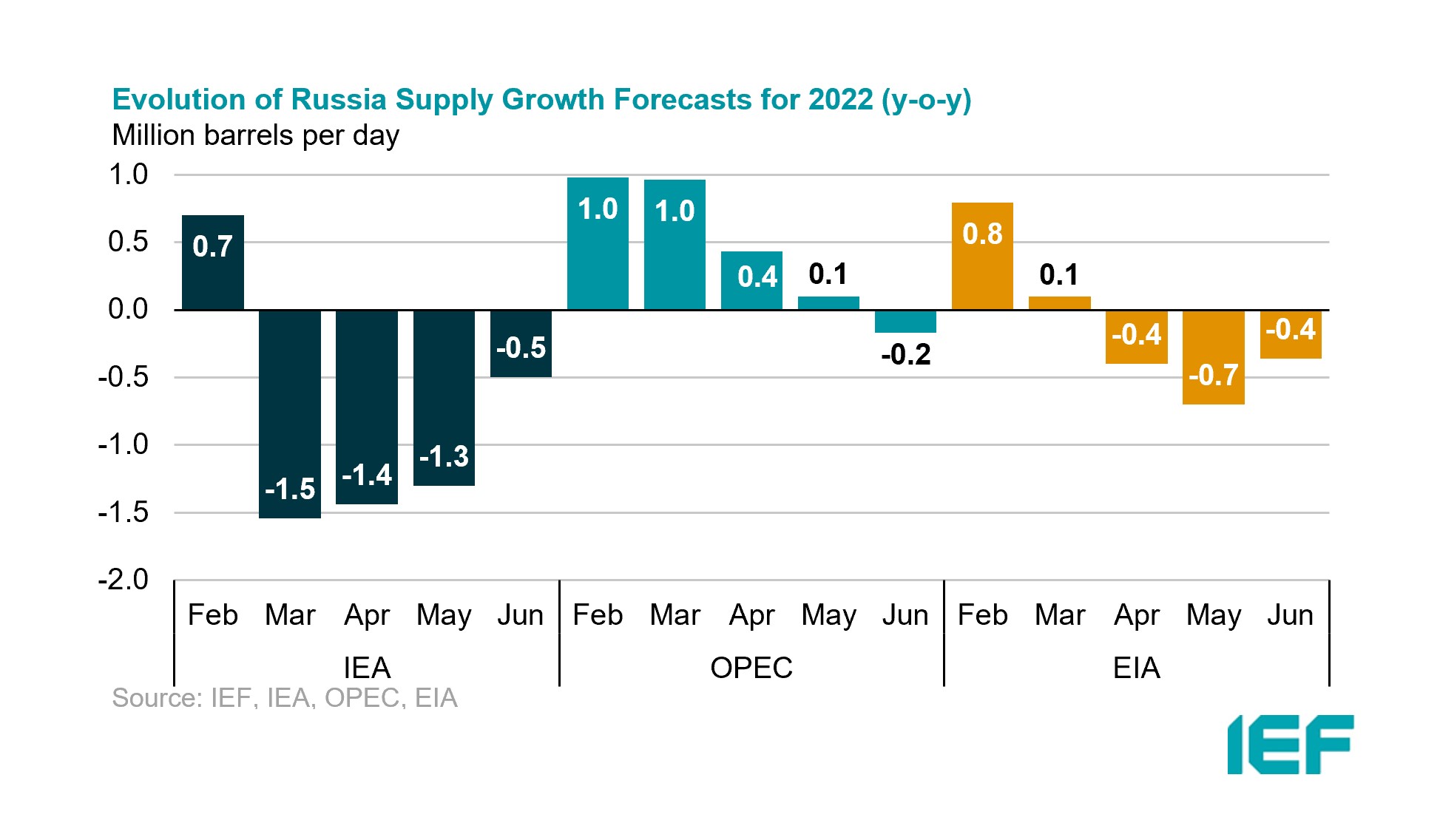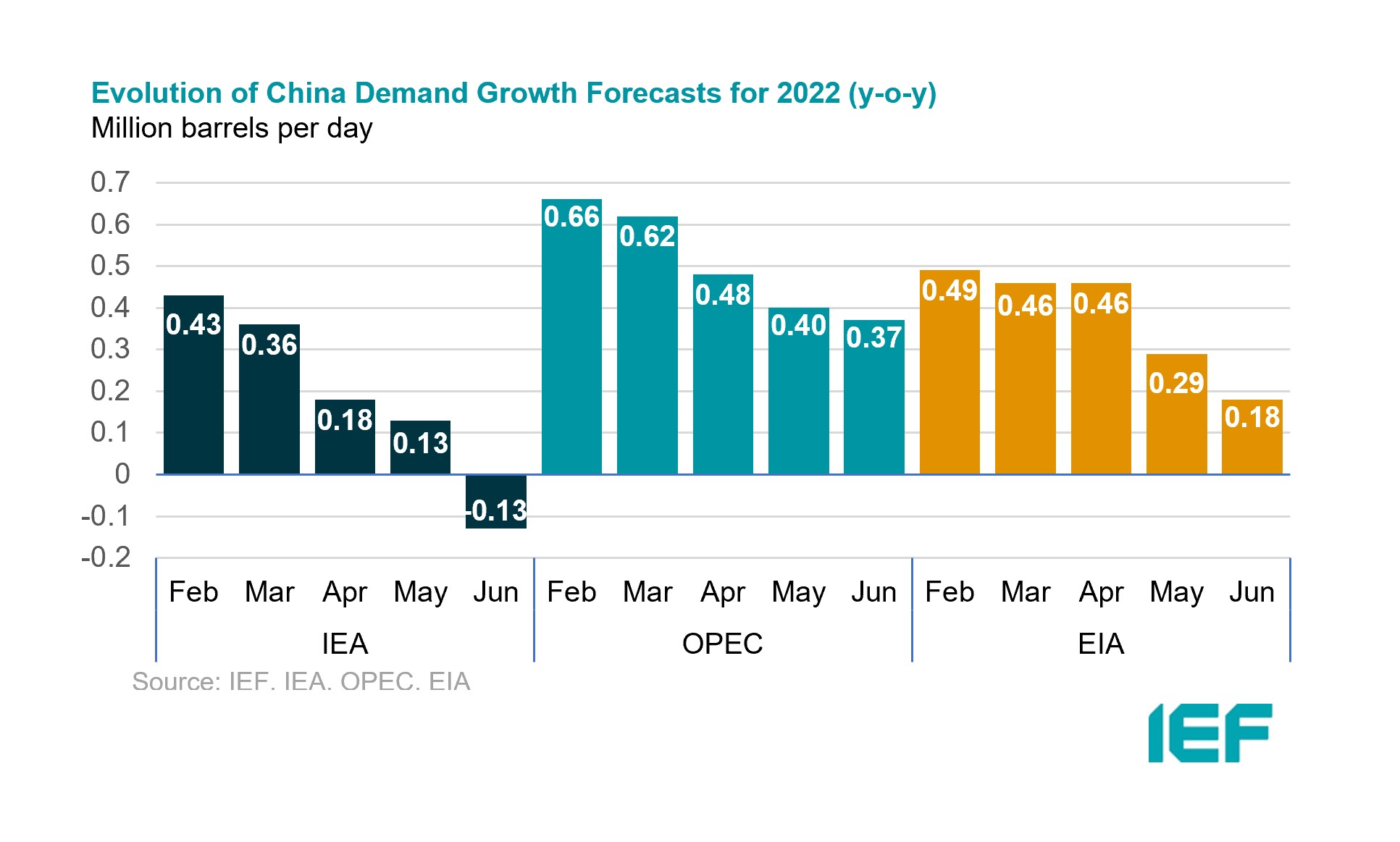 Explanatory Note
The IEF conducts a comprehensive comparative analysis of the short-, medium-, and long-term energy outlooks of the IEA, OPEC, and the EIA to inform the IEA-IEF-OPEC Symposium on Energy Outlooks that the IEF hosts in Riyadh as part of the trilateral work programme on a yearly basis.
To inform IEF stakeholders on how perspectives on the oil market of both organisations evolve over time regularly, this monthly summary provides:
An overview of key events and initiatives in the international policy and market context.
Key findings and a snapshot overview of data points gained from comparing basic historical data and short-term forecasts of the IEA Oil Market Report, the OPEC Monthly Oil Market Report, and the EIA Short-term Energy Outlook.
A comparative analysis of oil inventory data reported by the IEA, OPEC, and EIA, and secondary sources in collaboration with Kayrros (added in an updated report on the IEF website).
The International Energy Forum
The International Energy Forum is the leading global facilitator of dialogue between sovereign energy market participants. It incorporates members of International Energy Agency and the Organization of the Petroleum Exporting Countries, and also key players including China, India, Russia and South Africa. The forum's biennial ministerial meetings are the world's largest gathering of energy ministers, where discussions focus on global energy security and the transition towards a sustainable and inclusive energy future. The forum has a permanent secretariat of international staff based in the Diplomatic Quarter of Riyadh, Saudi Arabia. For more information visit www.ief.org.