Comparative Analysis of Monthly Reports on the Oil Market
1. International Policy and Market Context
The United Arab Emirates appoints Head of COP28 Climate Conference
On 12 January, Sultan al-Jaber, chief executive of state-owned Abu Dhabi National Oil Company (ADNOC), was appointed as President of COP28 which will take place in the United Arab Emirates later this year. The new president called for a tripling of renewable energy generation by 2030 while highlighting the need for oil and gas from the "least carbon intensive producers". He also stressed the need for an inclusive and just transition that leaves no one behind.
Russia bans oil exports to countries that implement price cap
On 27 December 2022, President Vladimir Putin signed a decree that bans the supply of crude oil from 1 February for five months to G7 nations, Australia, and EU Member states. This is in response to the $60-per-barrel price cap on Russian seaborne crude oil that the international Price Cap Coalition agreed to on 3 December and implemented on 5 December 2022. The price cap enables operators from these countries to transport Russian crude to third countries provided its price remains strictly below the cap. The date for the oil products ban will be determined by the Russian government according to the decree.
EU energy ministers reach agreement on natural gas price cap
On 19 December, EU ministers agreed to cap the price of natural gas to manage the cost of soaring energy prices after the European Union exceeded its pledge to reduce its gas imports from Russia by at least two thirds by 2023 and Russia cut off most natural gas supplies to Europe. The cap will be imposed when prices on the main European gas exchange, the Dutch Title Transfer Facility (TTF), exceed €180 a megawatt-hour for three consecutive working days and are €35/MWh above a reference price based on existing LNG price assessments for three days. The cap comes into effect on 15 February and will apply for one year.
Oil prices remain steady as US crude inventories report third-largest increase on record
On 6 January, it was announced that US crude inventories rose by 19 million barrels in the first week of January to about 440 million barrels, contrary to expert expectations. The stock build was the largest weekly build since February 2021, and the third-largest increase on record. Oil prices rose marginally on an improved global economic outlook, driven by a return of Chinese demand and the impact of sanctions on Russian crude output.
Iran natural gas exports to Turkey fall by 70 percent
As of 1 January, the supply of natural gas from Iran to Turkey is down 70 percent due to a fault in the Iranian network, according to Turkish state energy company BOTAS. In January 2022, Iran cut gas exports to Turkey for around two weeks due to a leak, forcing Turkey to cut power supply to industry. Iran is Turkey's second-largest supplier of natural gas after Russia.
2. KEY POINTS
2.1 DEMAND
IEA and EIA demand growth estimates rise for 2023 while OPEC's assessment falls slightly.
The IEA and EIA year-on-year (y-o-y) demand growth assessments for 2023 rise by 160 kb/d and 50 kb/d to 1.87 mb/d and 2.22 mb/d, respectively.
OPEC's forecast falls slightly by 30 kb/d for a growth of 2.22 mb/d in 2023.
The IEA, OPEC, and EIA estimates for absolute world demand are now 101.72 mb/d, 101.77 mb/d, and 100.48 mb/d for 2023, respectively.
IEA non-OECD demand growth rises while OPEC and EIA report decreases.
The IEA's assessment of y-o-y non-OECD demand growth rises by 80 kb/d to 1.40 mb/d, while OPEC's estimate falls by 20 kb/d to 1.89 mb/d. EIA non-OECD demand growth also falls by 40 kb/d to 1.21 mb/d.
The IEA's estimate for OECD demand growth rises by 80 kb/d to 0.47 mb/d for 2023 while OPEC's projection remains the same at 0.33 mb/d. EIA demand growth rises by 80 kb/d for a decline of 0.17 mb/d.
The largest divergence in OECD and non-OECD demand growth estimates are between IEA and EIA at 0.64 mb/d and between EIA and OPEC at 0.68 mb/d, respectively.
2.2 SUPPLY
OPEC reports greater non-OPEC supply growth while IEA and EIA estimates see closer alignment.
The IEA's January 2023 assessment for non-OPEC supply rises by 90 kb/d to reach a growth of 0.72 mb/d while OPEC's estimate remains the same at 1.54 mb/d. The EIA's assessment rises by 30 kb/d for an overall growth of 0.97 mb/d. In absolute values, the IEA, OPEC, and the EIA estimate non-OPEC supply at 66.42 mb/d, 67.16 mb/d, and 66.77 mb/d, respectively for 2023.
The IEA estimates OECD oil supply growth this year at 1.31 mb/d, OPEC pegs it at 1.64 mb/d, and EIA reports growth at 1.68 mb/d, a decrease of 60 kb/d, an increase of 10 kb/d, and an increase of 230 kb/d, respectively. In absolute terms, the IEA, OPEC, and the EIA estimate OECD oil supply at 30.72 mb/d, 32.37 mb/d, and 34.00 mb/d, respectively for 2023. The largest divergence of OECD supply growth estimates is between EIA and IEA at 370 kb/d.
IEA, OPEC, and EIA all report declines in non-OECD supply for 2023.
The IEA's assessment for non-OECD supply falls by 120 kb/d for a decline of 0.80 mb/d in 2023.
OPEC's growth dips slightly by 10 kb/d for a decline of 170 kb/d while the EIA revised its non-OECD growth forecast down by 70 kb/d for a decline of 710 kb/d.
In absolute values, the IEA, OPEC, and the EIA non-OECD supply estimates are 30.23 mb/d, 32.32 mb/d, and 32.76 mb/d, respectively for 2023 with the largest divergence in growth estimates between the IEA and OPEC at 0.63 mb/d.
OPEC and EIA report increases in OPEC output in December while IEA reports a slight decrease.
The IEA reported OPEC production declined by 40 kb/d in December to 29.19 mb/d.
OPEC showed OPEC production rose month-on-month by 910 kb/d to 28.97 mb/d.
EIA assessed OPEC production at 28.93 mb/d, up 190 kb/d month-on-month.
2.3 STOCKS
The IEA, OPEC, and EIA continue to display strong alignment on stock figures which are below the five-year average and at 60 days forward cover.
The IEA reports OECD stock levels at 2779 mb, which is close to OPEC's assessment of 2768 mb and EIA's assessment of 2785 mb. These are around 126 mb, 137 mb, and 107 mb below the five-year average, respectively.
According to the IEA, crude oil inventories drew by 19.8 mb while product stocks built by 23.6 mb. Other oils, including NGLs and feedstocks drew by 2.9 mb. According to OPEC, crude oil stocks drew by 25.8 mb while products built by 28.5 mb.
The widest divergence in inventories is between the EIA and OPEC at 18 mb. Total US crude inventories (excluding SPR) amount to about 440 mb, according to the EIA, which is 1 percent above the five-year average for this time of year.
2.4 SNAPSHOT (mb/d)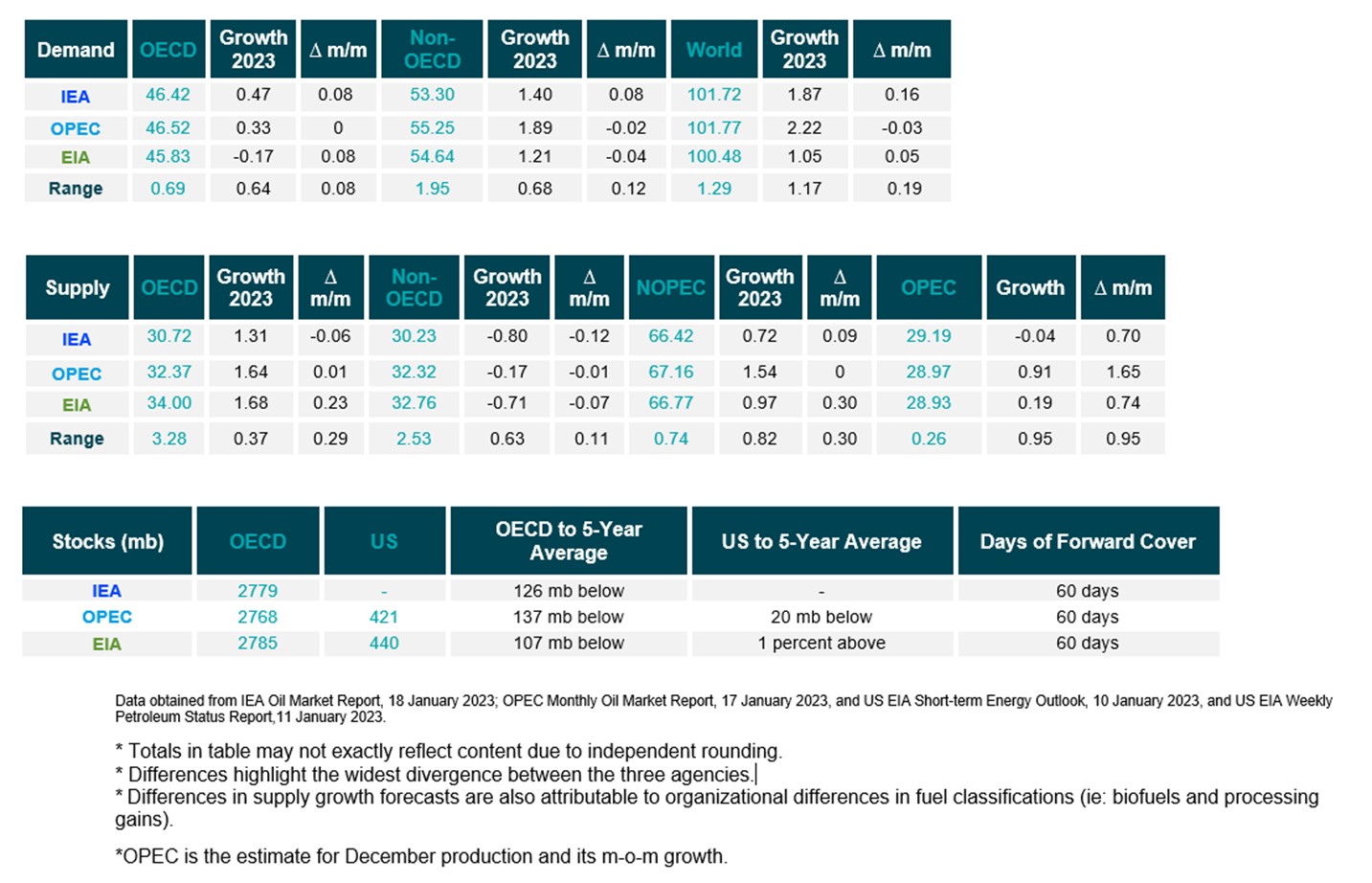 3. Global Analysis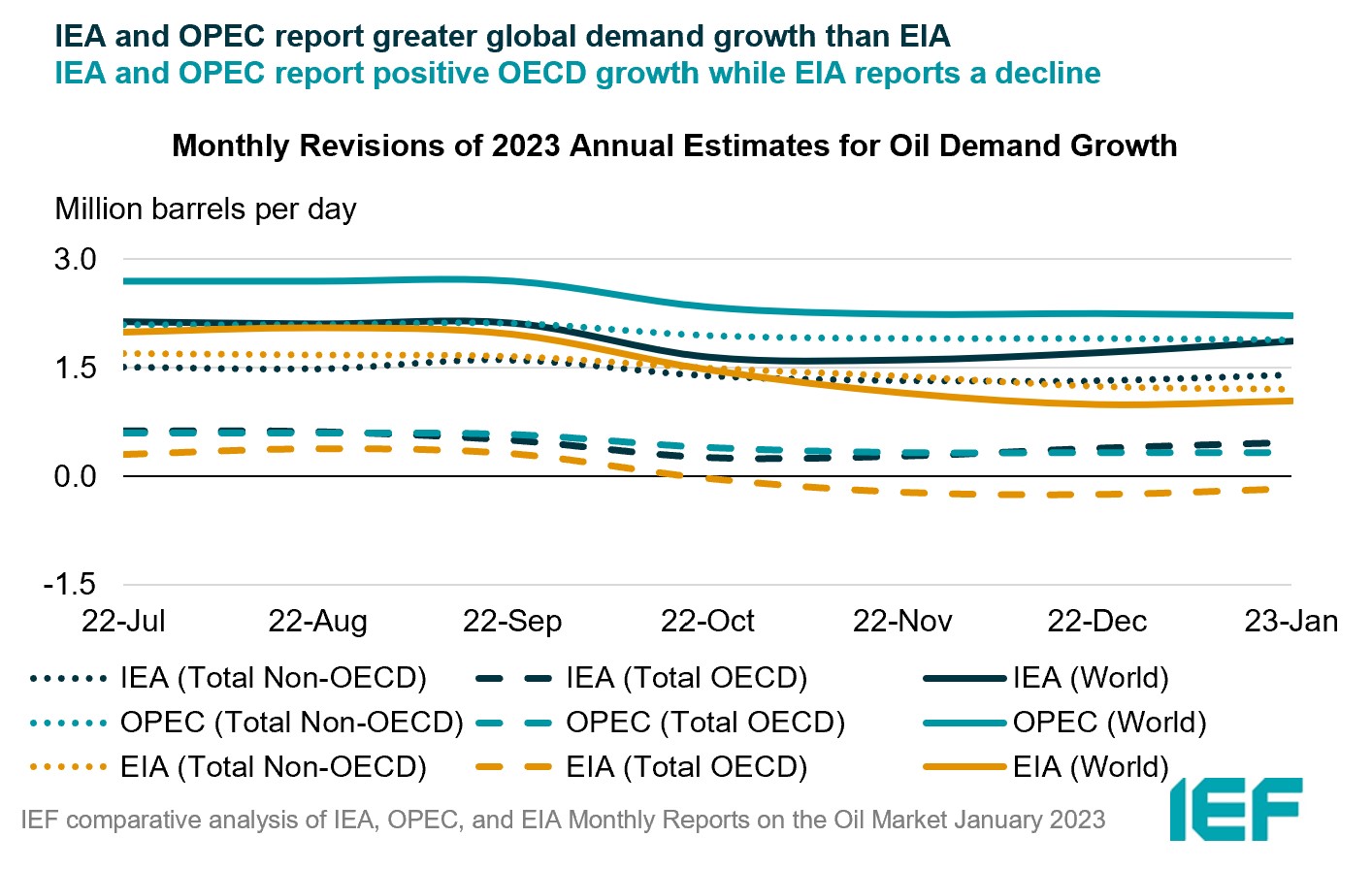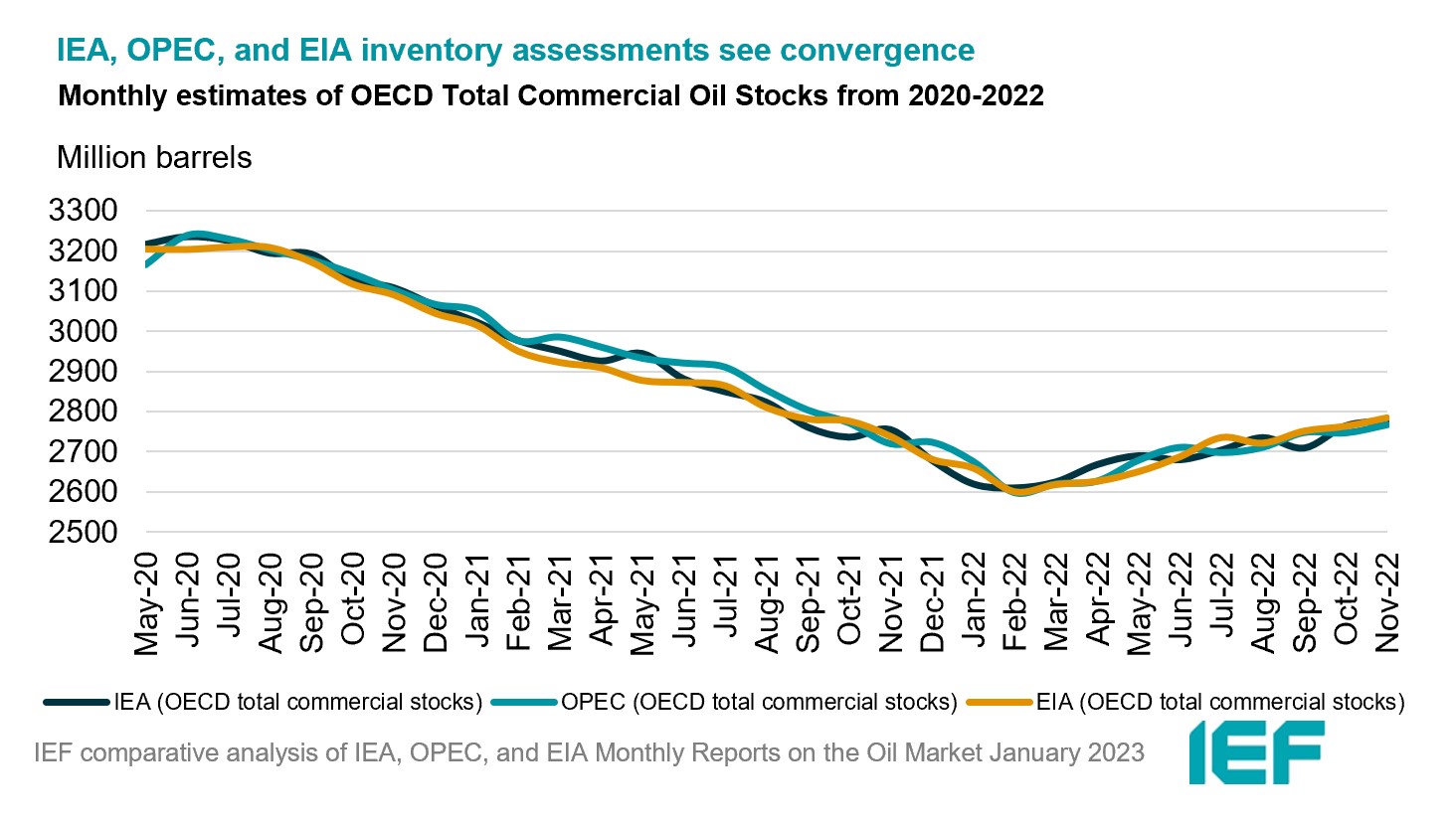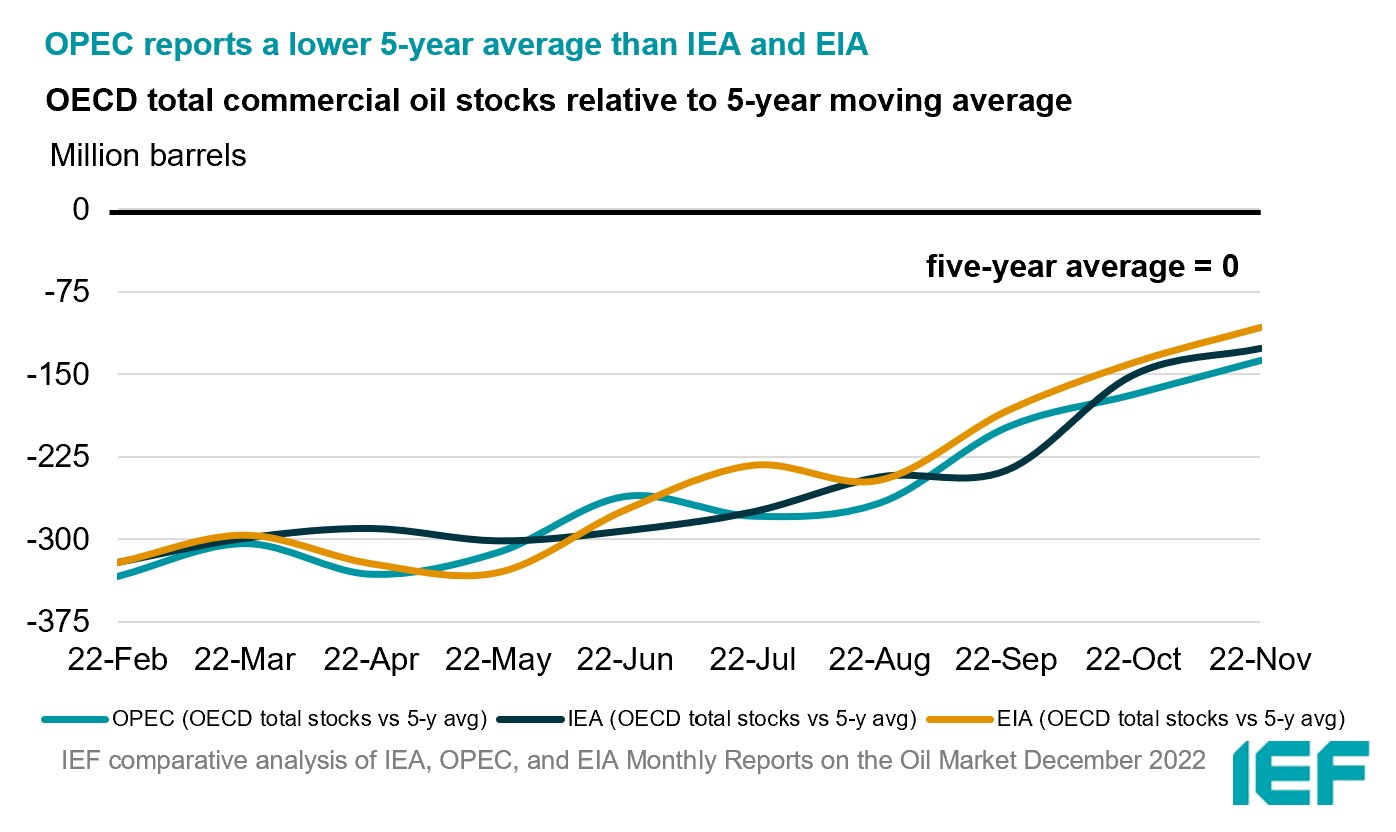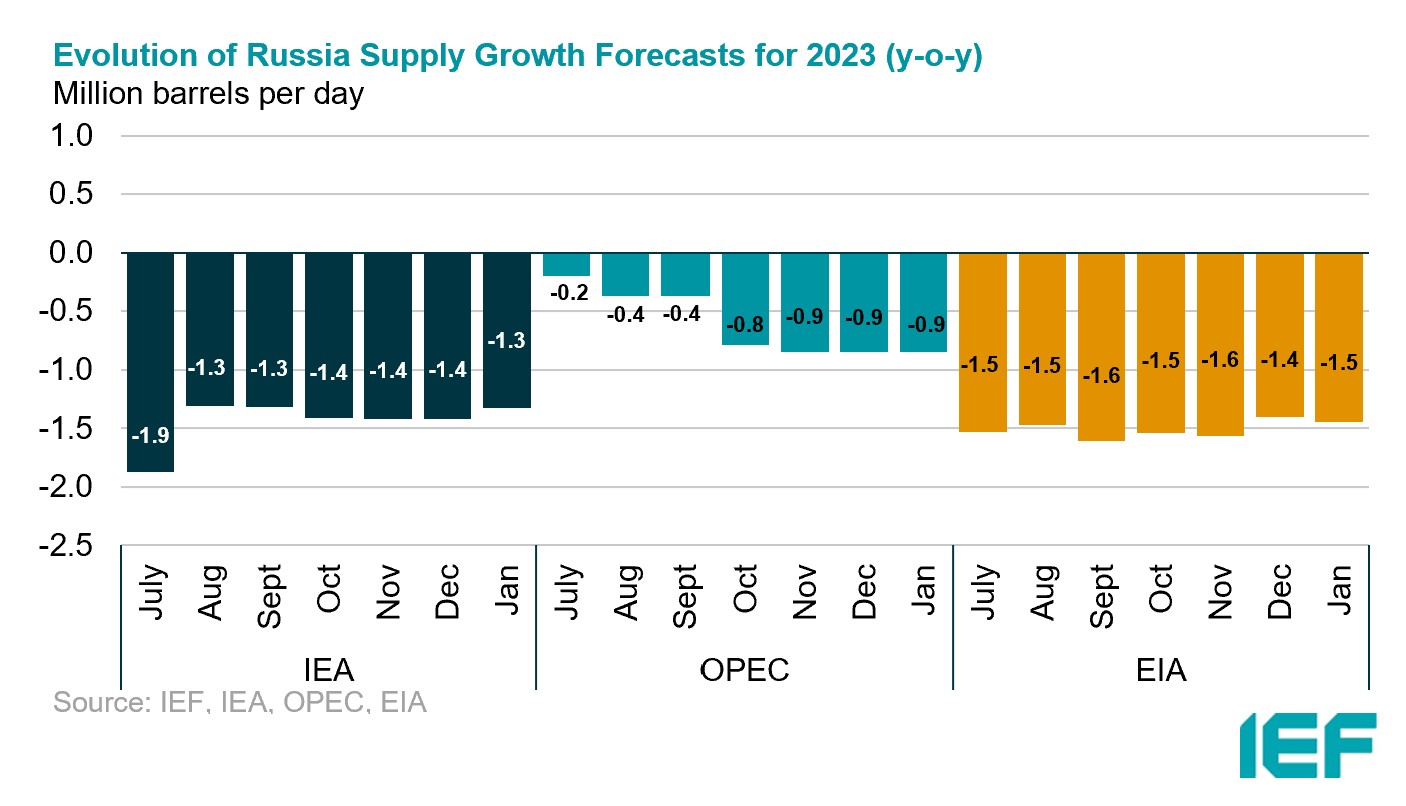 Explanatory Note
The IEF conducts a comprehensive comparative analysis of the short-, medium-, and long-term energy outlooks of the IEA, OPEC, and the EIA to inform the IEA-IEF-OPEC Symposium on Energy Outlooks that the IEF hosts in Riyadh as part of the trilateral work programme on a yearly basis.
To inform IEF stakeholders on how perspectives on the oil market of both organisations evolve over time regularly, this monthly summary provides:
An overview of key events and initiatives in the international policy and market context.
Key findings and a snapshot overview of data points gained from comparing basic historical data and short-term forecasts of the IEA Oil Market Report, the OPEC Monthly Oil Market Report, and the EIA Short-term Energy Outlook.
A comparative analysis of oil inventory data reported by the IEA, OPEC, and EIA, and secondary sources in collaboration with Kayrros (added in an updated report on the IEF website).
The International Energy Forum
The International Energy Forum is the leading global facilitator of dialogue between sovereign energy market participants. It incorporates members of International Energy Agency and the Organization of the Petroleum Exporting Countries, and also key players including China, India, Russia and South Africa. The forum's biennial ministerial meetings are the world's largest gathering of energy ministers, where discussions focus on global energy security and the transition towards a sustainable and inclusive energy future. The forum has a permanent secretariat of international staff based in the Diplomatic Quarter of Riyadh, Saudi Arabia. For more information visit www.ief.org.