Comparative Analysis of Monthly Reports on the Oil Market
1. International Policy and Market Context
Pakistan to quadruple coal-fired power due to surging natural gas prices
On 14 February, Pakistan announced it will quadruple domestic coal-fired capacity and will not build new gas-fired plants in the coming years. A surge in global prices of liquefied natural gas (LNG) after Russia's invasion of Ukraine coupled with an economic crisis has made LNG unaffordable for the country. Despite power demand increasing in 2022, Pakistan's annual LNG imports fell to the lowest levels in five years as LNG flows were directed towards Europe and away from price-sensitive consumers.
Russia to cut oil output by 500,000 barrels per day in March
On 10 February, Deputy Prime Minister Alexander Novak announced that Russia will cut oil production by 500,000 barrels per day, or around 5 percent of output in March after the West imposed price caps on Russian oil and oil products. The G7 economies, the EU, and Australia agreed to ban the use of Western-supplied maritime insurance, finance and brokering for seaborne Russian oil priced above $60 per barrel from 5 December. The EU also implemented a ban on purchases of Russian oil products and set price caps from 5 February. The production cut is in addition to a Russian ban on crude exports to countries that implement the price cap which took effect on 1 February.
Japan adopts policy to operate nuclear reactors beyond 60-year limit
On 10 February, the Japanese government has approved a policy to allow new nuclear power reactors to be constructed and the operation of existing reactors to be extended. On 13 February, the Japanese Nuclear Regulation Authority approved the new legislation. Under the new system, additional operating extensions can be granted every 10 years after 30 years of service. This is a major shift away from the current 40-year operating limit with a possible one-time extension of up to 20 years. The government's new "green transformation" policy features extensive use of nuclear power along with renewable energy.
South Africa declares "state of disaster" amid power crisis
On 9 February, South African President Cyril Ramaphosa declared a national "state of disaster" over the country's power shortages. State electricity utility Eskom is implementing the worst rolling blackouts on record, impacting households, disrupting manufacturing, and hurting businesses. Declaring a national state of disaster gives the government additional powers to respond to a crisis, including the permitting of emergency procurement procedures with fewer bureaucratic delays and less oversight.
2. KEY POINTS
2.1 DEMAND
IEA, OPEC, and EIA demand growth estimates rise for 2023.
The IEA and EIA year-on-year (y-o-y) demand growth assessments for 2023 rise by 90 kb/d and 100 kb/d to 1.96 mb/d and 1.11 mb/d, respectively.
OPEC's forecast rises by 100 kb/d for a growth of 2.32 mb/d in 2023.
The IEA, OPEC, and EIA estimates for absolute world demand are now 101.92 mb/d, 101.87 mb/d, and 100.47 mb/d for 2023, respectively.
IEA and EIA OECD demand growth falls while OPEC reports a slight increase.
The IEA's assessment of y-o-y OECD demand growth falls by 80 kb/d to 0.39 mb/d, while EIA's estimate falls by 100 kb/d to -0.27 mb/d. OPEC's OECD demand growth rises by 20 kb/d to 0.35 mb/d.
The IEA and EIA estimate for non-OECD demand growth rises by 170 kb/d to 1.57 mb/d and 1.38 mb/d, respectively for 2023 while OPEC's projection rises by 70 kb/d for a growth of 1.96 mb/d.
The largest divergence in OECD and non-OECD demand growth estimates are between IEA and EIA at 0.66 mb/d and between EIA and OPEC at 0.58 mb/d, respectively.
2.2 SUPPLY
IEA, EIA, and OPEC see greater alignment on non-OPEC supply growth.
The IEA's February 2023 assessment for non-OPEC supply rises by 230 kb/d to reach a growth of 0.95 mb/d while OPEC's estimate falls by 100 kb/d to 1.44 mb/d. The EIA's assessment rises by 270 kb/d for an overall growth of 1.24 mb/d. In absolute values, the IEA, OPEC, and the EIA estimate non-OPEC supply at 66.65 mb/d, 67.01 mb/d, and 67.02 mb/d, respectively for 2023.
The IEA estimates OECD oil supply growth this year at 1.26 mb/d, OPEC pegs it at 1.59 mb/d, and EIA reports growth at 1.60 mb/d, a decrease of 50 kb/d for IEA and OPEC and a decrease of 80 kb/d for the EIA. In absolute terms, the IEA, OPEC, and the EIA estimate OECD oil supply at 30.66 mb/d, 32.30 mb/d, and 33.93 mb/d, respectively for 2023. The largest divergence of OECD supply growth estimates is between EIA and IEA at 340 kb/d.
IEA, OPEC, and EIA all report declines in non-OECD supply for 2023.
The IEA's assessment for non-OECD supply rises by 270 kb/d for a decline of 0.53 mb/d in 2023.
OPEC's growth dips slightly by 50 kb/d for a decline of 0.22 mb/d while the EIA revised its non-OECD growth forecast up by 350 kb/d for a decline of 0.36 mb/d.
In absolute values, the IEA, OPEC, and EIA non-OECD supply estimates are 30.51 mb/d, 32.23 mb/d, and 33.09 mb/d, respectively for 2023 with the largest divergence in growth estimates between the IEA and OPEC at 0.31 mb/d.
IEA, OPEC and EIA report decreases in OPEC output in January.
The IEA reported OPEC production declined by 40 kb/d in December to 29.06 mb/d.
OPEC showed OPEC production fell month-on-month by 490 kb/d to 28.88 mb/d.
EIA assessed OPEC production at 28.30 mb/d, down 530 kb/d month-on-month.
2.3 STOCKS
The IEA, OPEC, and EIA continue to display strong alignment on stock figures which are below the five-year average and at 60 days or more of forward cover.
The IEA reports OECD stock levels at 2767 mb, which is close to OPEC's assessment of 2768 mb and EIA's assessment of 2783 mb. These are around 96 mb, 95 mb, and 67 mb below the five-year average, respectively.
According to the IEA, crude oil inventories built by 11.5 mb while product stocks drew by 31.5 mb. Other oils, including NGLs and feedstocks built by 1.9 mb. According to OPEC, crude oil stocks built by 5.2 mb while products drew by 16.2 mb.
The widest divergence in inventories is between the IEA and EIA at 16 mb. Total US crude inventories (excluding SPR) amount to about 471 mb, according to the EIA, which is 8 percent above the five-year average for this time of year.
2.4 SNAPSHOT (mb/d)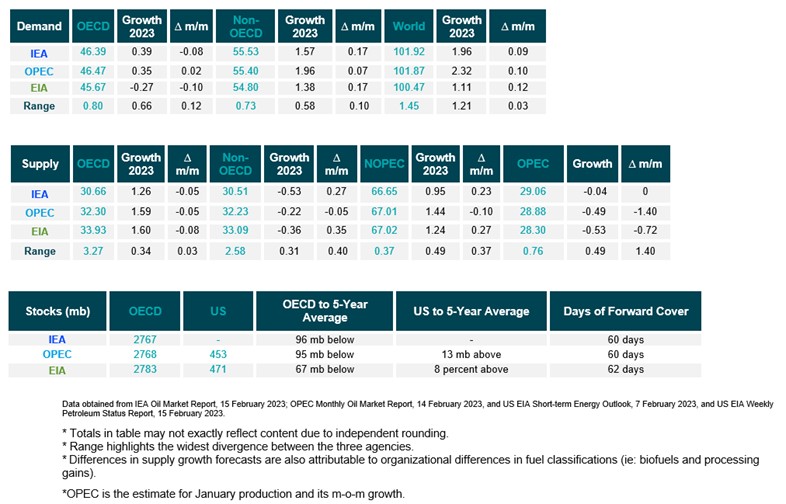 3. Global Analysis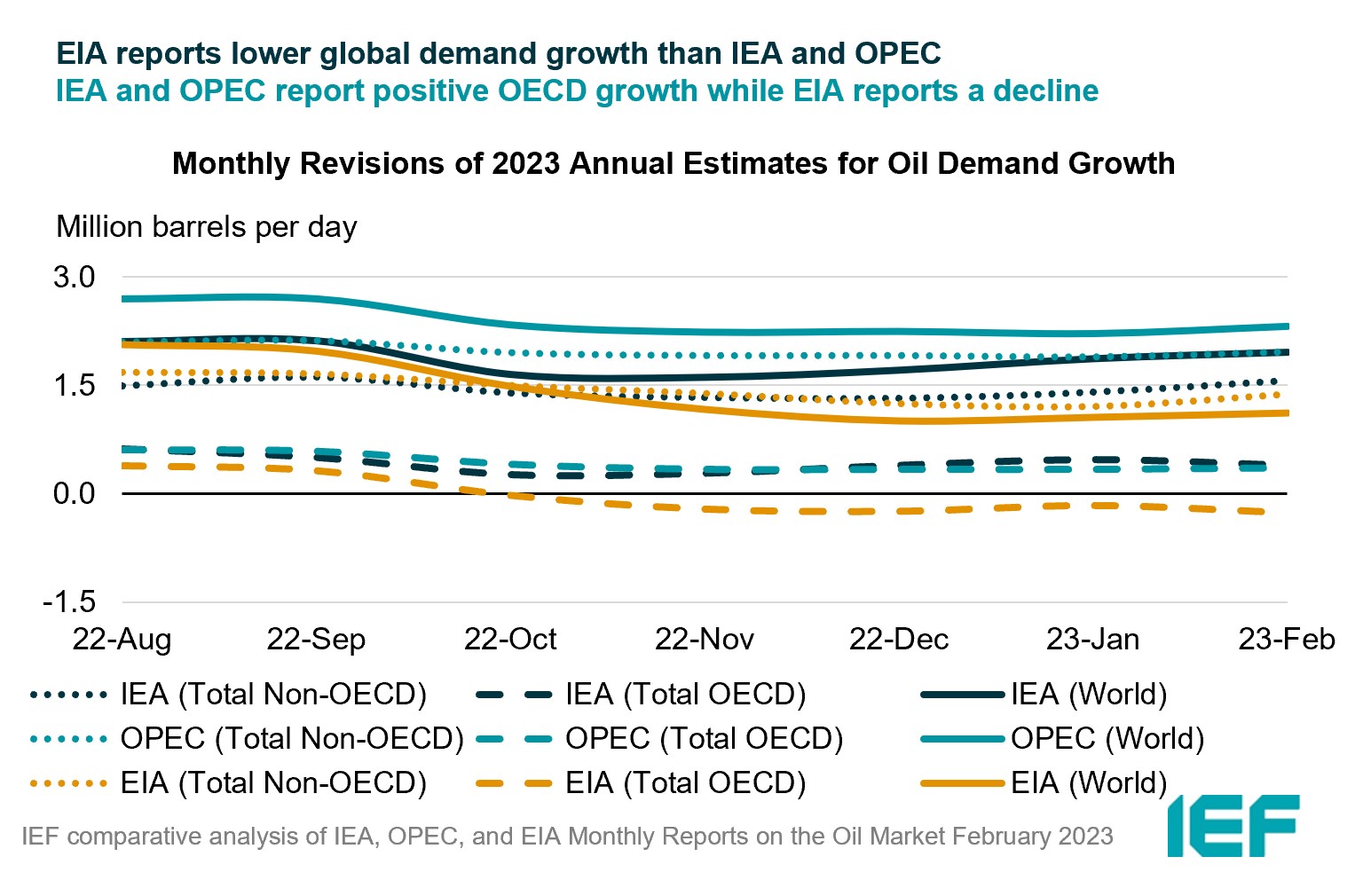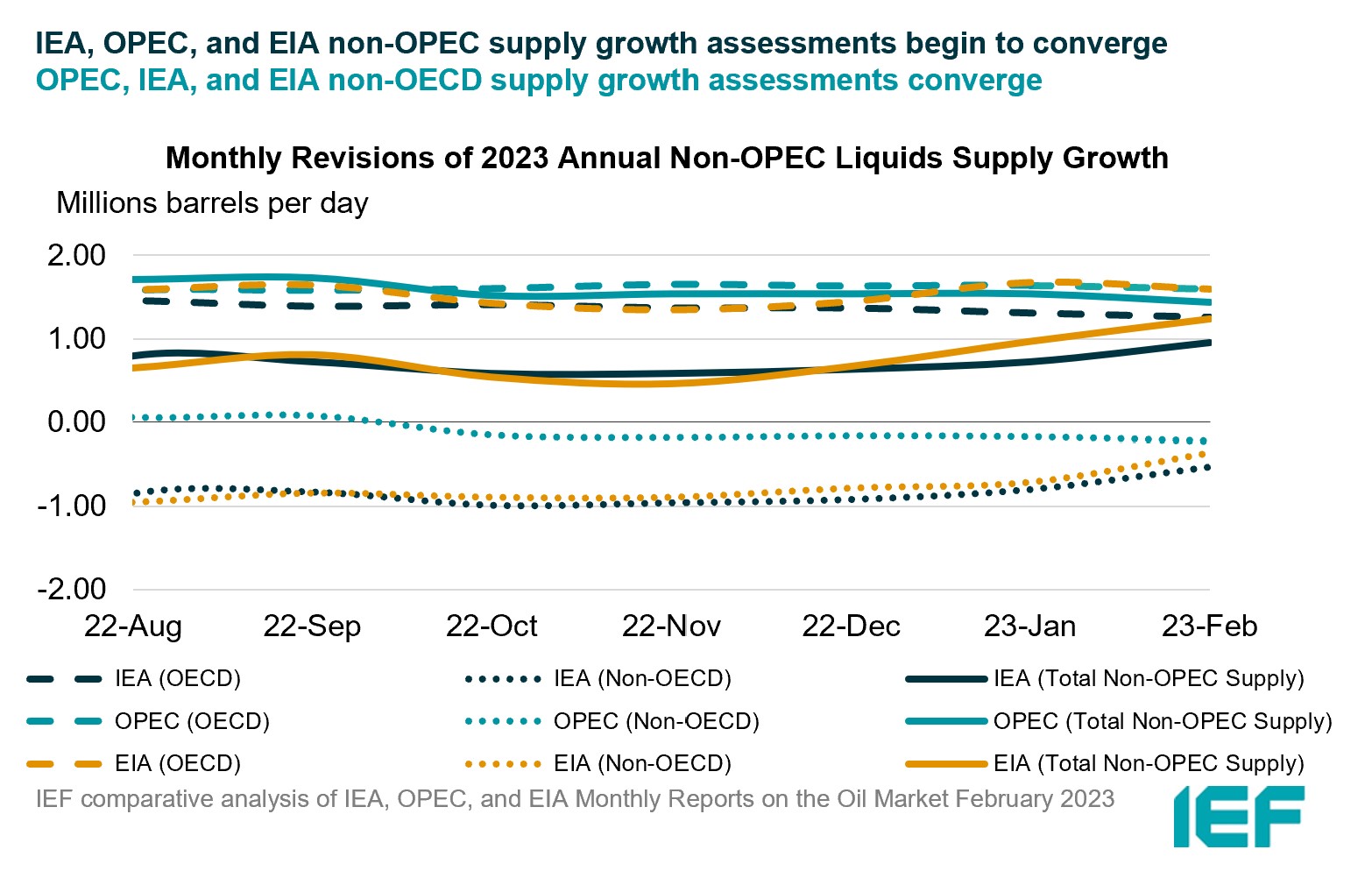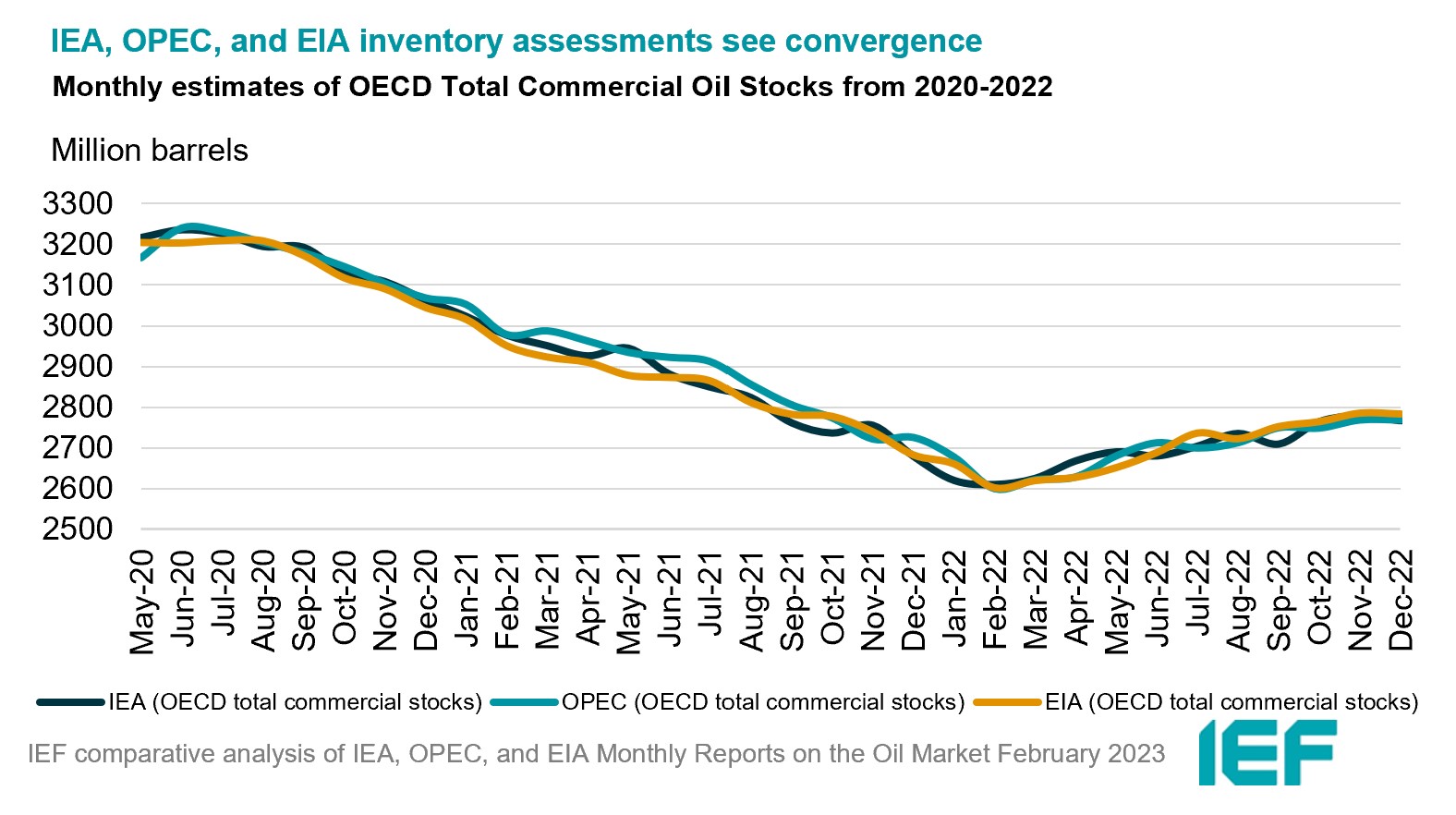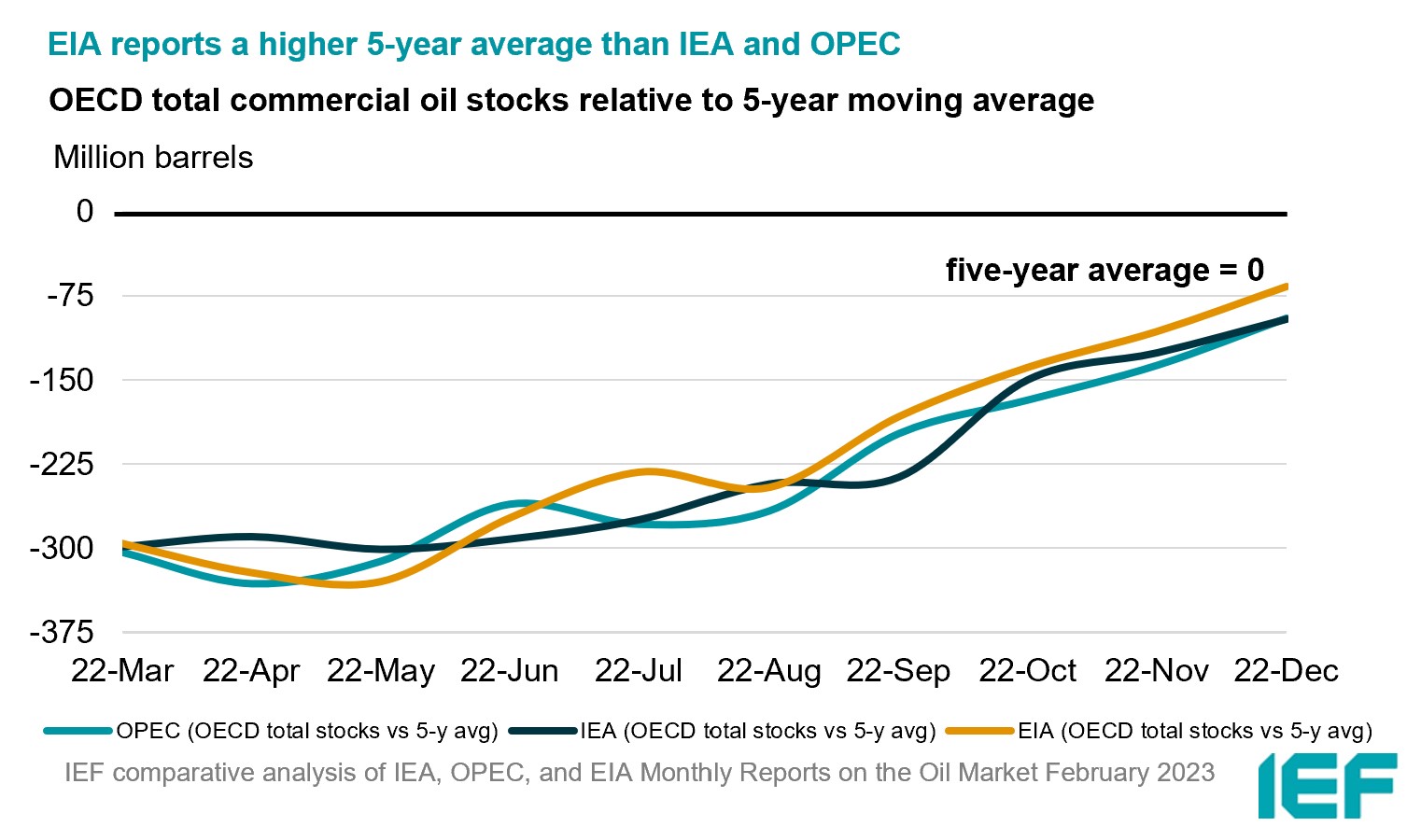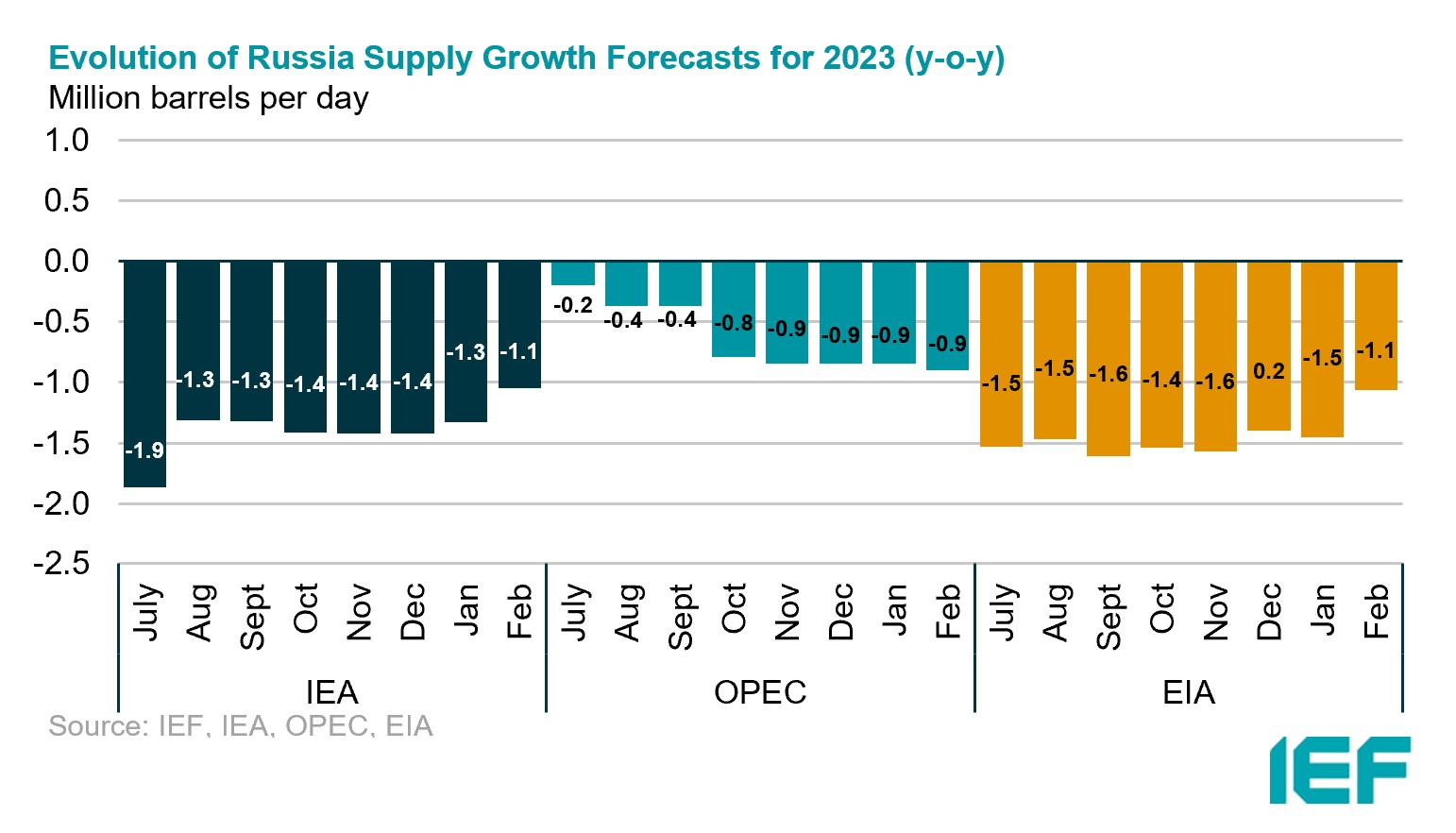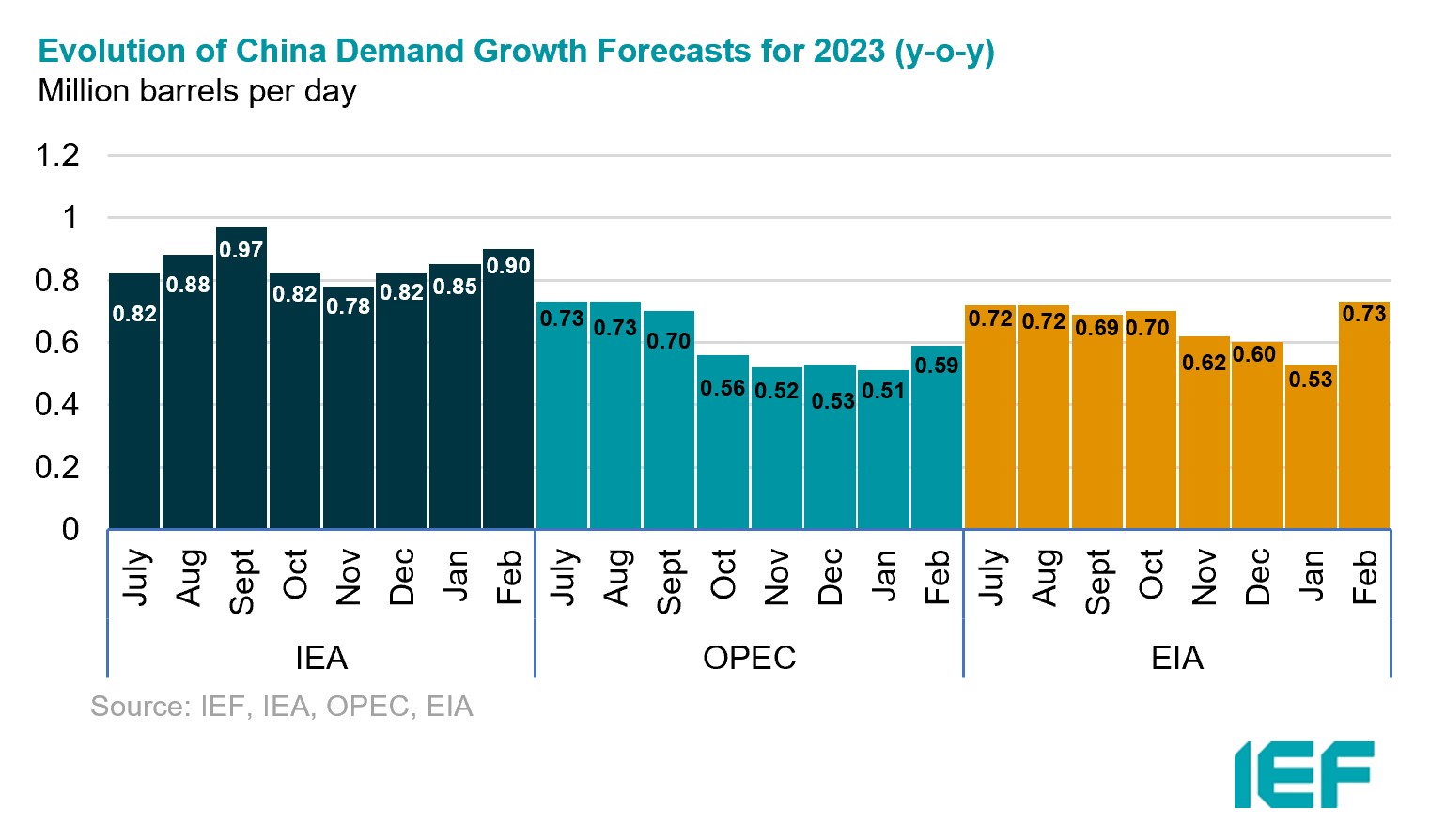 Explanatory Note
The IEF conducts a comprehensive comparative analysis of the short-, medium-, and long-term energy outlooks of the IEA, OPEC, and the EIA to inform the IEA-IEF-OPEC Symposium on Energy Outlooks that the IEF hosts in Riyadh as part of the trilateral work programme on a yearly basis.
To inform IEF stakeholders on how perspectives on the oil market of both organisations evolve over time regularly, this monthly summary provides:
An overview of key events and initiatives in the international policy and market context.
Key findings and a snapshot overview of data points gained from comparing basic historical data and short-term forecasts of the IEA Oil Market Report, the OPEC Monthly Oil Market Report, and the EIA Short-term Energy Outlook.
A comparative analysis of oil inventory data reported by the IEA, OPEC, and EIA, and secondary sources in collaboration with Kayrros (added in an updated report on the IEF website).
The International Energy Forum
The International Energy Forum is the leading global facilitator of dialogue between sovereign energy market participants. It incorporates members of International Energy Agency and the Organization of the Petroleum Exporting Countries, and also key players including China, India, Russia and South Africa. The forum's biennial ministerial meetings are the world's largest gathering of energy ministers, where discussions focus on global energy security and the transition towards a sustainable and inclusive energy future. The forum has a permanent secretariat of international staff based in the Diplomatic Quarter of Riyadh, Saudi Arabia. For more information visit www.ief.org.