High Natural Gas Prices Contribute to Rising Fertilizer and Food Prices
High natural gas prices are pushing agricultural fertilizer prices higher, contributing to increasing food prices globally.
Natural gas is used as a feedstock to produce ammonia, a source of nitrogen essential for plants. Ammonia is further processed and combined with other plant nutrients like phosphorous and potassium to produce different types of fertilizer. While a majority of global ammonia production uses natural gas, coal gasification is also used.
Because of the prevalent use of natural gas in the production of ammonia-based fertilizers, natural gas prices tend to be correlated with fertilizer prices. Positively correlated (close to 1) when rising natural gas prices push fertilizer prices higher, and negatively correlated (close to -1) when falling natural gas prices cause fertilizer prices to go lower. As natural gas prices have increased in the past several months, those higher prices are now passing through to agricultural fertilizer prices – resulting in some historically high positive correlations.
In North America, where natural gas prices have not increased to the same degree as in Europe and Asia, fertilizer price indexes are at their highest level ever – surpassing $1000/short ton, 180% increase compared with the same time last year.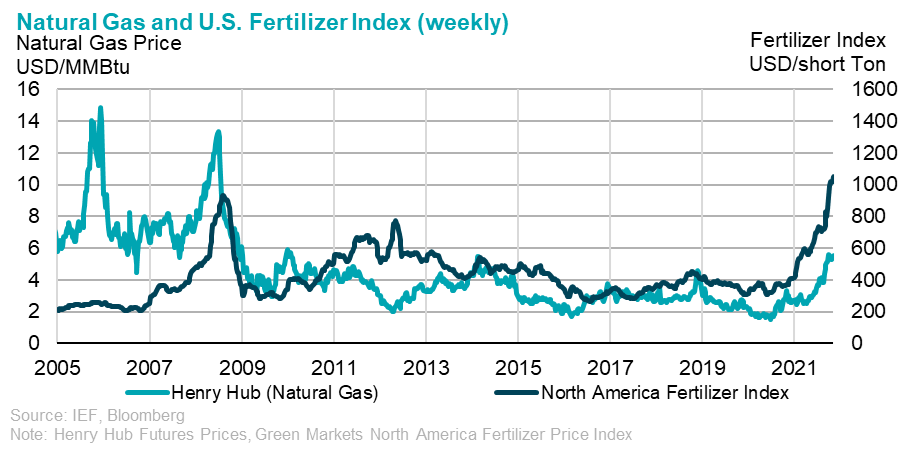 In Europe, rising natural gas prices to over $30/MMBtu in October, have pushed ammonia prices higher in many of the largest export markets like the Black Sea/Ukraine. Ammonia prices in Europe have increased close to 270% from the same time last year.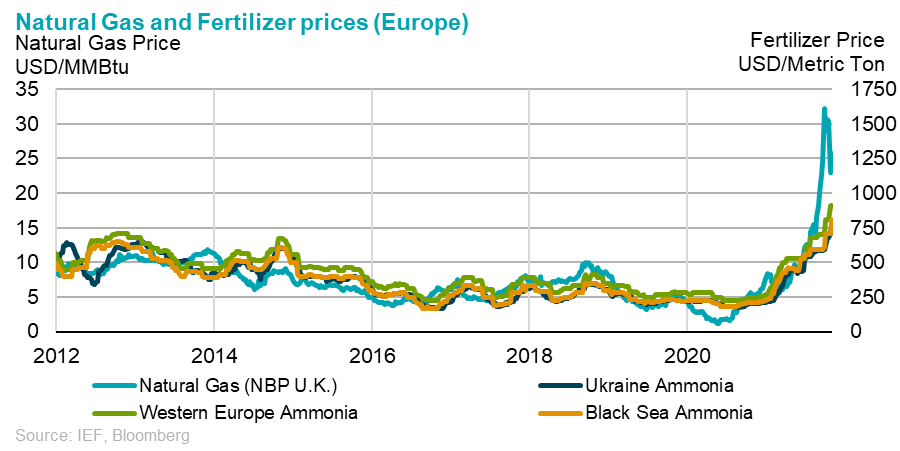 "The IEF is carefully monitoring the situation in global gas markets, and has recently convened a special dialogue between producers and consumers to enhance international understanding of the current market crisis," said Joseph McMonigle, Secretary General of the International Energy Forum.
"Natural gas is regarded as the fuel of choice to enable successful transitions in emerging market economies that will lead the global recovery, and it is a critical feedstock for the world's food production and other sectors."
"Long-term, natural gas is expected to remain one of the world's main primary energy sources, accounting for one quarter of the mix by the middle of the century, according to major outlooks."
"The current high prices and scarcity of LNG, particularly in Asia, has led to industries switching from gas to coal and oil and in some cases close down altogether. Major consumers have sounded the alarm, highlighting that the current gas market situation is a threat to the long-term reliability of gas and therefore it is in the interests of both producers and consumers to enhance the availability of gas."
"The IEF has called on natural gas market participants to increase investment in new supplies of natural gas to ensure security of supply and price stability."
In both the Middle East and India, ammonia prices have also been rising – close to $700/metric ton an increase of 120-150% from the same time last year.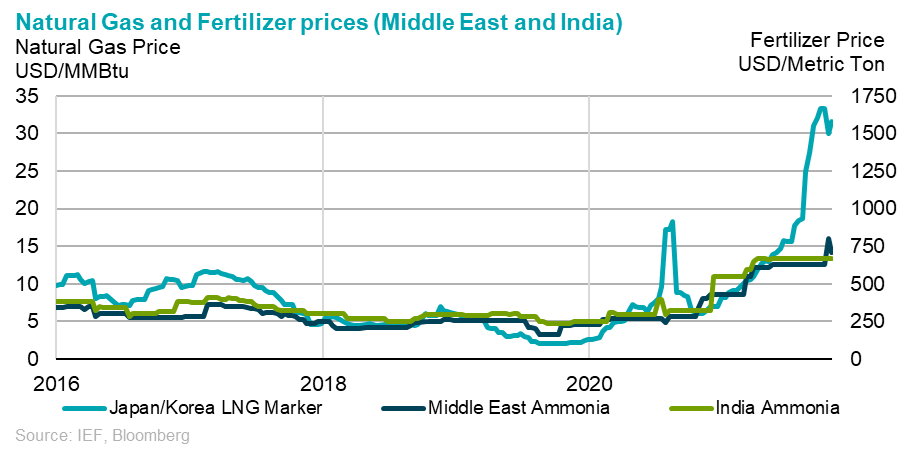 In China, where most ammonia production is from coal regasification, rising domestic coal prices have also pushed the price of urea (a common ammonia-based fertilizer) higher, up 84% from the same time last year.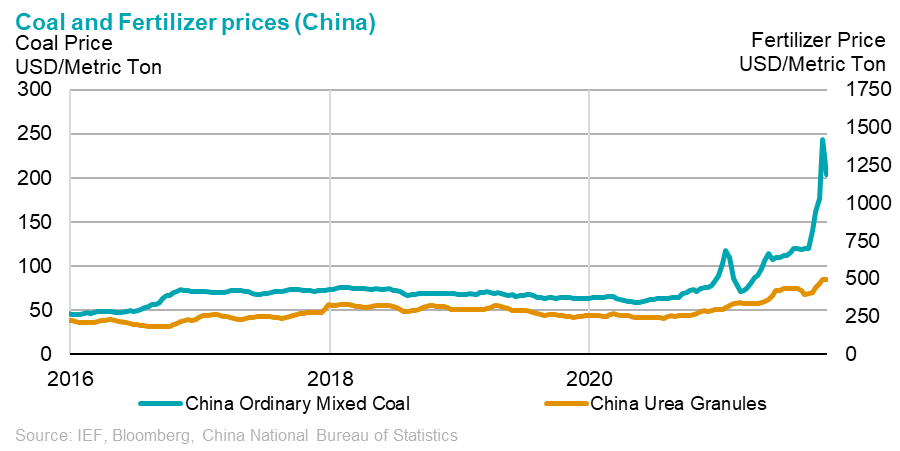 Rising fertilizer prices are a contributing factor in rising global food prices as indicated by the United Nations Food and Agriculture Organization's Food Price Index, which hit it's highest level since February 2011 in October of this year.