The Importance of Water to our Energy Systems is on Full Display this Summer
By T. Mason Hamilton
Water is both an ally—in electricity generation and transportation—and an enemy—in the form of drought and floods—to our global energy system. While water-related disruptions happen seasonally, those this summer are both particularly severe and unwelcome as the global economy is already dealing with high energy prices, tight supplies, and geopolitical uncertainty.
In Europe, a drought combined with record high summer temperatures are complicating the supply chain for petroleum products. The Rhine River, several of its tributaries, and connecting waterways are major corridors for the transportation of petroleum products like gasoline and diesel. The inland navigable waterway connects the petroleum refineries, storage terminals, and deep-water ports of Rotterdam, Antwerp, and Amsterdam, to areas of Germany, France, and Switzerland.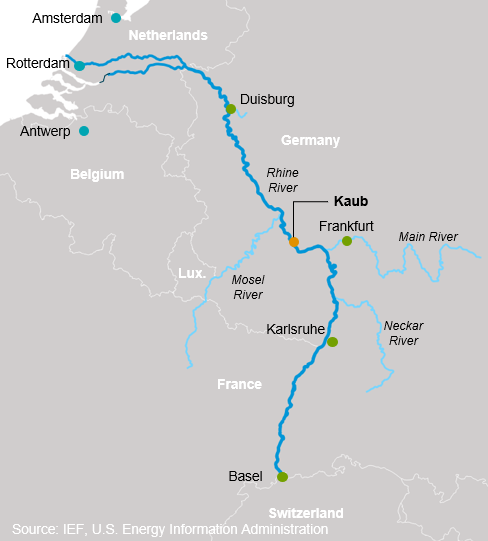 Tanker barges can safely navigate the Rhine River if the water level is low enough that they can clear under the many bridge crossings (air draft), and water levels high enough to not run aground (deep draft). Current water levels on the Rhine River, measured at the key-point of Kaub, Germany, are critically low and continue to fall, threating to disrupt logistics of petroleum products in the region. On July 22, Switzerland announced they would release petroleum products from their strategic reserves as a result of the disruptions. Because this part of Europe lacks sufficient petroleum product pipeline infrastructure, the only alternative to Rhine River barges would be by rail or truck. Using alternative transportation adds costs and results in higher retail prices for consumers at a time when fuel prices at near-record highs.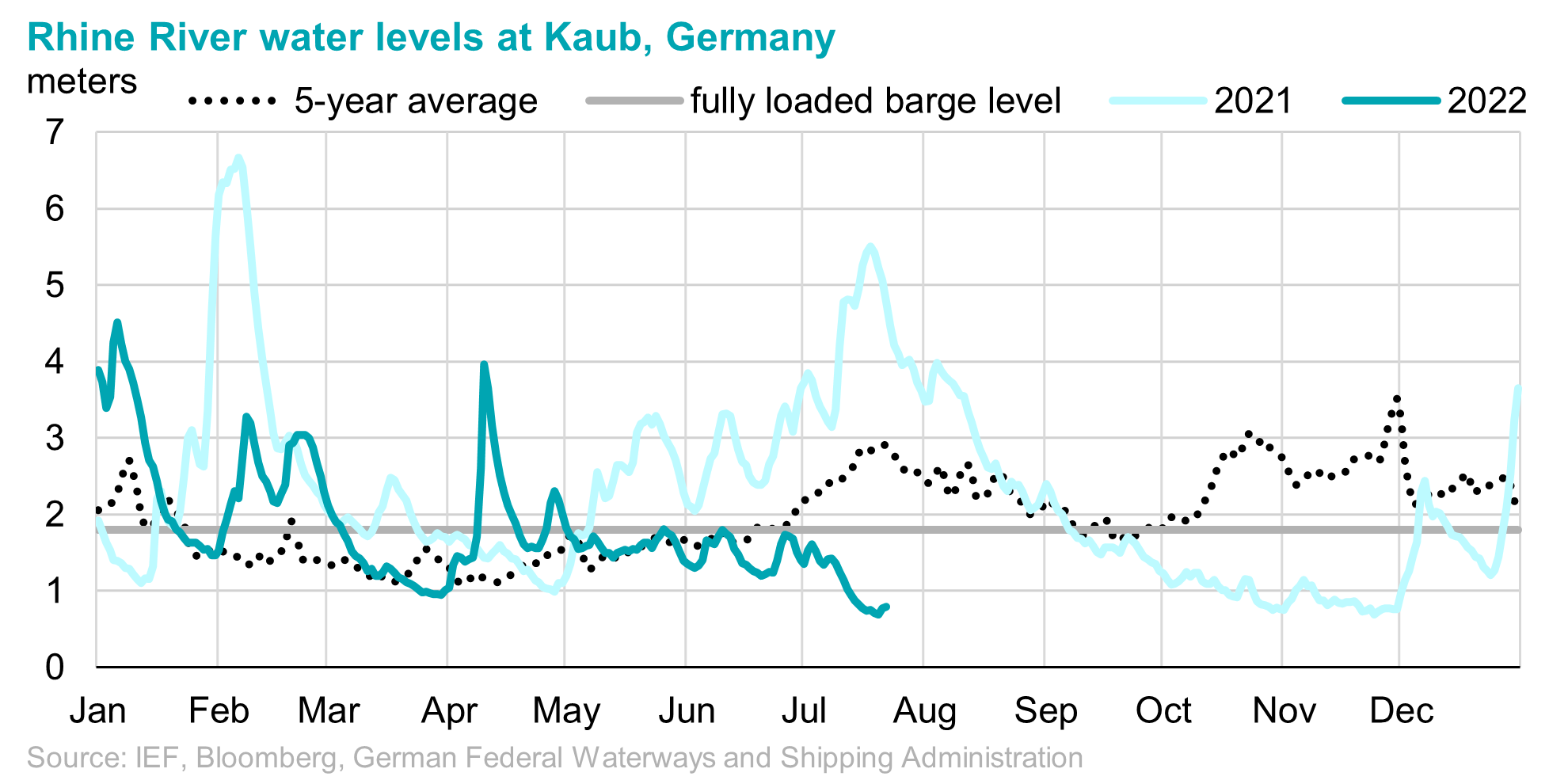 Low water levels and high-water temperatures can also affect power generation. Many thermal power generating plants use water for cooling and steam generation. Low water levels can force power plants to reduce output for lack of coolant, similarly, high water temperatures and regulations limit the outflow water temperature from power plants – one of the reasons power plants have different summer and winter capacities. In France, several nuclear power plants have been forced to curtail output or seek regulatory exemptions for outflow water temperatures. This comes as a large portion of France's nuclear generating fleet is offline for major repairs, severely limiting available generation capacity and causing electricity prices to rise.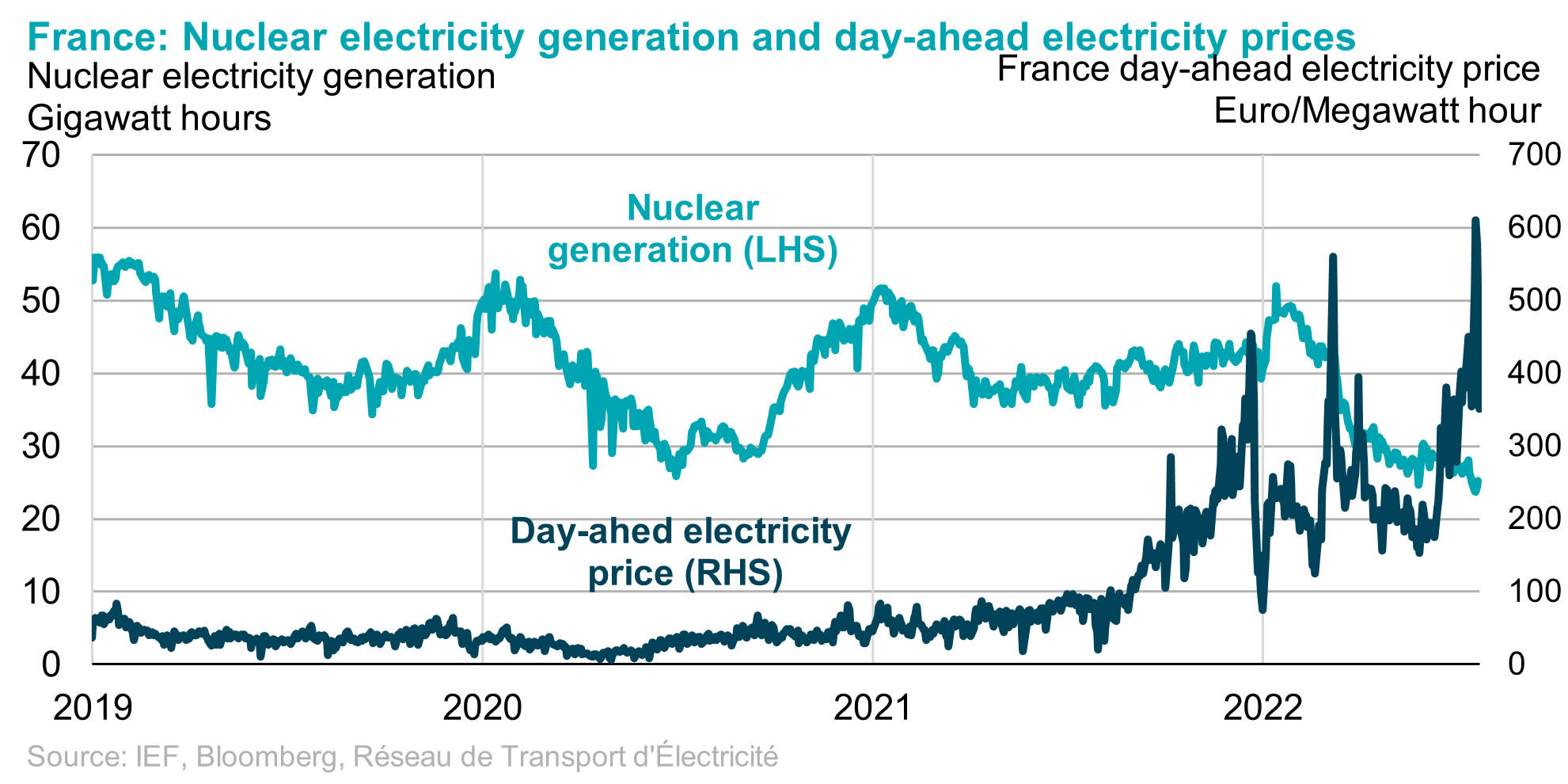 In the United States' Southwest, a severe prolonged drought is threatening electricity generation at two large hydroelectric dams. Water levels behind the 1,312MW Glen Canyon Dam and the 1,039MW Hoover Dam, the two largest hydroelectric dams on the Colorado River, have fallen to historic lows. The U.S. Bureau of Reclamation, the government agency in charge of the dams and reservoirs, was forced to take unprecedented action to ensure water levels did not drop past the "minimum power pool elevation" level, or the point at which there is not enough water to generate electricity.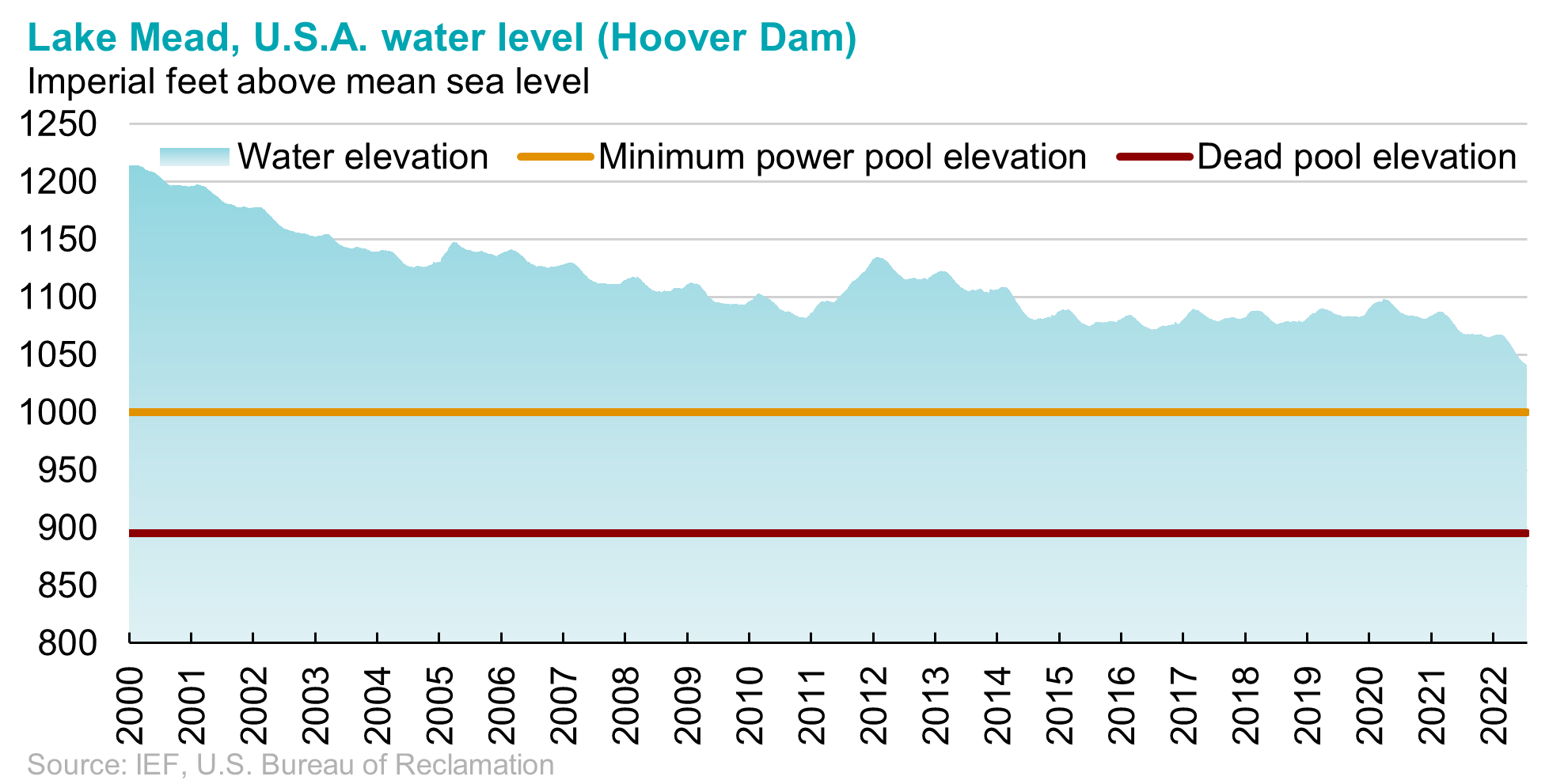 Just as a lack of water can cause problems, so too can too much water. Recent heavy rains in New South Wales, Australia resulted in widespread flooding and landslides. The flooding and landslides damaged, or blocked rail lines used for shipping coal from mines to the export port of Newcastle, causing Newcastle coal futures prices to increase over $400/metric ton. Newcastle coal prices were already high compared to recent history, as more countries in Asia buy coal supplies as an alternative to even more expensive natural gas.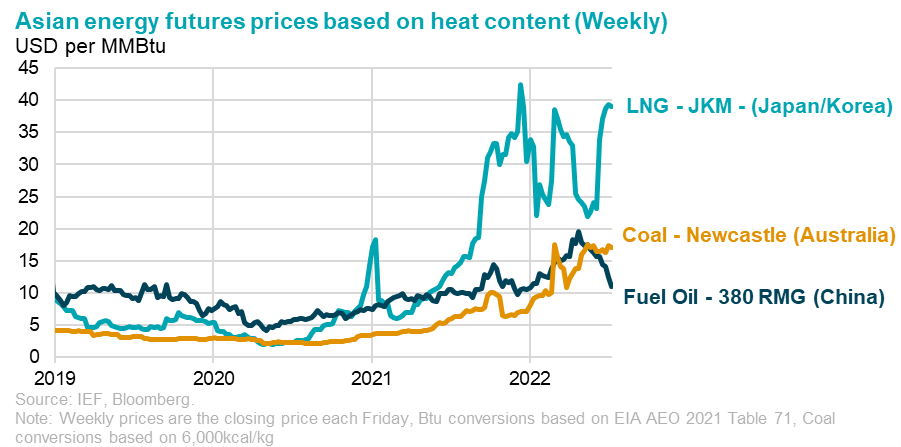 However, the biggest water related energy disruptions may come in the months ahead in the form of Atlantic Hurricanes. Although the Atlantic Hurricane season officially started on June 1, it lasts until November, and the U.S. weather agency, NOAA, has predicted a 65% chance of an above-normal season, with up to 21 named storms. While hurricanes are noted for their windspeeds, the most significant and lasting damage is done by water – either storm surge or flooding. Hurricane Harvey in 2017 dropped nearly 61 inches (155cm) of rainfall over several days in and around Houston, Texas – an area densely packed with critical crude oil and natural gas infrastructure. Then in 2021, Hurricane Ida caused flooding and damage to the 255,000 b/d capacity Alliance refinery, near Belle Chase, Louisiana, forcing it to close permanently.
Currently, refineries are running at high utilization levels to meet demand and U.S. inventories of crude oil and petroleum products are below-normal levels – when combined with tight global refinery capacity, it means that any hurricane disruption in the United States this year is likely to be more impactful. Additionally, the U.S. Strategic Petroleum Reserve, which has been activated in the past because of hurricane-related disruptions, is already drawing down at an average rate of 787,000 b/d since April.