7th IEF-IGU Ministerial Gas Forum
Kuala Lumpur, Malaysia
12 Key Ministers Participate in 7th IEF-IGU Ministerial Gas Forum
In collaboration with the International Energy Forum (IEF) and the International Gas Union (IGU), H.E. Tan Sri Muhyiddin Yassin, Prime Minister of Malaysia inaugurated the 7th IEF-IGU Ministerial Gas Forum hosted by the government of Malaysia from Kuala Lumpur, on 3 December 2020 under the theme "Towards Recovery and Shared Prosperity: Natural Gas Opportunities for a Sustainable World."
H.E. Dato' Sri Mustapa bin Mohamed, Minister in the Prime Minister's Department (Economy), Malaysia, Tengku Muhammad Taufik, President & Group CEO of PETRONAS, Joe Kang, President of the International Gas Union, and Joseph McMonigle, Secretary General of the International Energy Forum, welcomed 12 Energy Ministers, Chief Executive Officers, and Heads of International Organisations to evaluate new natural gas market prospects that enable a sustainable future and achieve shared prosperity around the world.
The 7th IEF-IGU Ministerial Gas Forum was convened as a virtual meeting, structured in two plenary sessions:
Opportunities in Growing Gas Markets: Producer-Consumer Perspectives on New Realities
Market Signals and Policy Pathways: Investment and Innovation on the Road to Recovery
Roundtable dialogue among Ministers and gas market stakeholders strengthened existing partnerships and forged new bonds to accelerate an inclusive and sustainable recovery from the COVID-19 pandemic to achieve shared goals.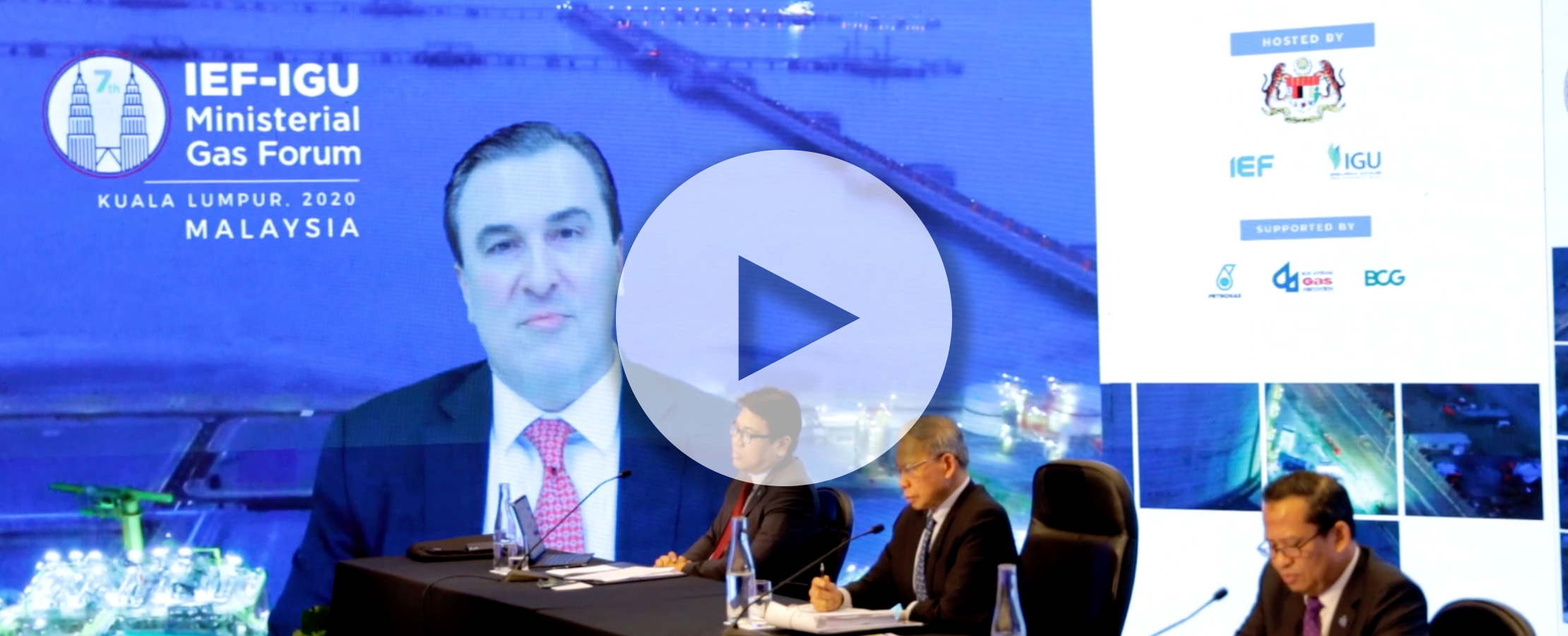 As part of the discussions, delegates deepened collective understanding of evolving energy policies and business strategies to accelerate a secure, sustainable, and inclusive recovery and shared prosperity. As the COVID-19 pandemic has resulted in the largest recorded demand shock in the history of natural gas markets, the sessions provided governments and industry leaders direction on proactive steps to ensure market stability and facilitate a swift and sustainable recovery through dialogue on the neutral IEF platform in partnership with the IGU and gas market stakeholders.
Major Asian growth economies and the global gas industry are well-positioned to help facilitate a sustainable economic recovery. As emission reductions in developed economies demonstrate, gas technologies accelerate fuel-switching and deeper penetration of renewables. This will enable affordable and resilient energy systems integration coupled with hydrogen technologies that are essential for sustainable growth. Ultimately, natural gas continues to contribute to emission reductions and affordable access in the OECD region and remains the transition fuel of choice in non-OECD growth economies where reducing greenhouse gas emissions from coal is essential.
There was also agreement that a more sustainable and secure future requires greater solidarity, and holistic solutions to energy and climate policy challenges. To safeguard robust and predictable trade and investment conditions across densely interconnected regional markets and jurisdictions, delegates noted that there is an urgent need to deepen understanding of evolving policy and market signals to stimulate gas sector trade and investment.
The International Energy Forum (IEF) and the International Gas Union (IGU) set up this important dialogue platform in close collaboration with the Economic Planning Unit of Malaysia. Dialogue in both sessions were held under the Chatham House Rule and help IEF member governments, IGU natural gas business leaders, and policy makers around the world to unite behind a clear vision on what is needed to stimulate inclusive growth and create a sustainable energy future.