4th IEF-EU Energy Day: The Green New Deal and Circular Economy
Riyadh, Saudi Arabia
The Secretary General of the International Energy Forum (IEF), Dr Sun Xiansheng, and the Ambassador of the European Union to Saudi Arabia, Bahrain, Kuwait, Oman and Qatar, HE Michele Cervone d'Urso, co-hosted the Fourth IEF-EU Energy Day on 18 February 2020 at the IEF Headquarters in Riyadh.
Keynote addresses, invited from both the European Union (EU) and the G20 Presidency of Saudi Arabia highlighted new green technology investment and deployment over the long-term, and how a Circular Carbon Economy can play a role towards energy sector transformations.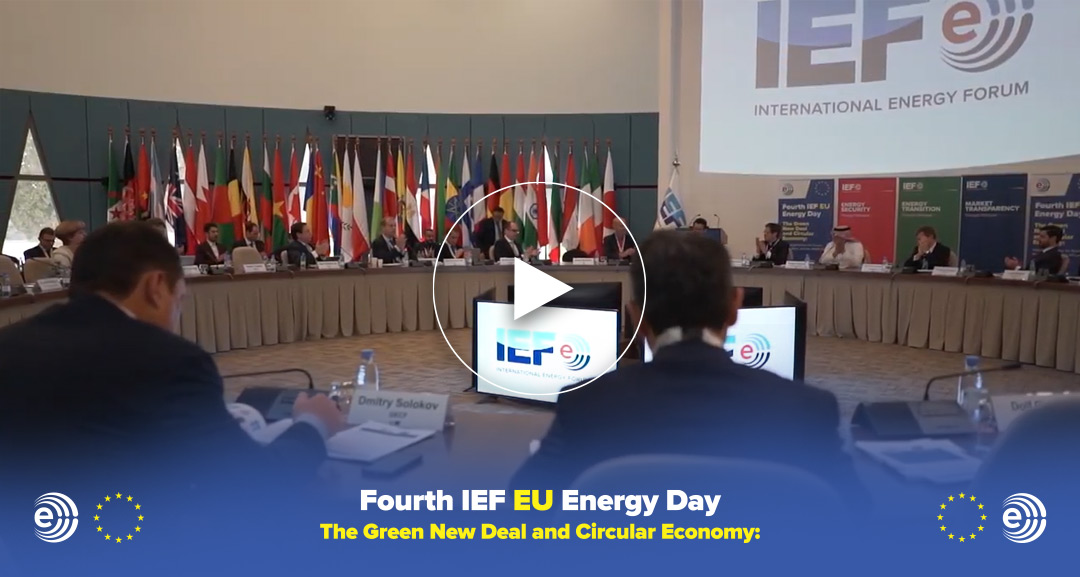 The event featured several speakers including:
Frank Wouters, Director, EU-GCC Clean Energy Technology Network, European Union who provided an overview of the European Green Deal.
Khalid Abuleif, Senior Advisor to the Minister of Energy, Saudi Arabia who provided a Saudi perspective on the G20 Presidency.
HE Freiherr Hans-Christian von Reibnitz, Chargé d'Affaires, Embassy of Germany to Saudi Arabia, chaired and moderated Session I on Regional trends in energy investment, trade, and innovation for energy sector transformations.
HE Georg Pöstinger, Ambassador of Austria to Saudi Arabia chaired and moderated Session II on New approaches to promote clean energy technologies, and circular carbon models.
The Fourth IEF-EU Energy Day was held under the Chatham House Rules, against the background of major new policy initiatives and market developments in Europe, the Middle East, and North Africa (MENA) that will open up new opportunities for trade, technology transfer, and investment among these regions. Participants benefited from the contributions of various European senior government and private sector panelists from Austria, Italy, the Netherlands, and Spain. Insights from organisations such as the Arab Petroleum Investment Corporation (APICORP) and projects such as "New Futures" (NEOM) provided a unique MENA perspective on energy transformations.
Discussants noted that, oil and gas companies will continue to play a major role in realising orderly energy transitions given fossil fuel demand will grow until at least 2035-2040. At the same time, new energy technology deployment and innovation, driven by advancements in Carbon Capture Use and Storage, hydrogen storage, and the implementation of a Circular Carbon Economy will allow for more orderly and enduring transitions. Panelists noted that although advances have been made, greater regional collaboration, and interconnections are necessary in accelerating energy transitions towards a carbon-neutral energy future.
Government policies will set the conditions for investment in innovation and green technologies, but economic growth requirements also play a role. The falling cost of renewable technology, the long-term prices of natural gas, and implementing efficiencies in existing energy systems will also determine the future course towards secure and sustainable functioning of the energy market.

The outcomes of the Fourth IEF-EU Energy Day will be captured in an IEF Dialogue Insight Report and help to inform the global energy dialogue including but not limited to the 17th IEF Ministerial Forum hosted by Saudi Arabia and co-hosted by Morocco and Nigeria. The Forum will convene on 25-26 September 2020 in Dhahran on the theme "Vision for a New Era: The Producer-Consumer Quest for Stability, Change, and Growth."
Opening Remarks
HE Michele Cervone d'Urso, Ambassador, European Union
EU perspective: The New Green Deal and Circular Economy
G20 Presidency perspective
Session I: Regional trends in energy investment, trade, and innovation for energy sector transformations
Moderated by Freiherr Hans-Christian von Reibnitz, Chargé d'Affaires a.i., Embassy of Germany to Saudi Arabia, former Ambassador to Oman
Leila Benali, Chief Economist and Head of Strategy, Arab Petroleum Investments Corporation (APICORP)
Sergio Garribba, Counsellor for International Energy Policy, Ministry of Foreign Affairs and International Cooperation, Italy
Roeland Kollen, Head Regional Business Development, Economic Envoy Gulf Region, Ministry of Foreign Affairs, The Netherlands
Carole Nakhle, Founder and CEO, Crystol Energy
Session II: New approaches to promote clean energy technologies, and circular carbon models
Moderated by HE Georg Pöstinger, Ambassador of Austria to Saudi Arabia
Peter Terium, Managing Director, Energy, NEOM